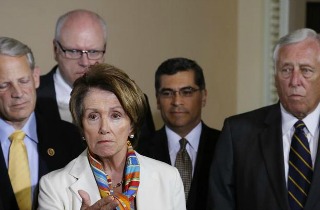 The conventional wisdom among veteran Washington political analysts regarding the Benghazi select committee is that Republicans have handed Democrats a great gift.
In a midterm election year in which a variety of factors favor Republican candidates, unenthusiastic Democrats finally have an issue that could drive them to the polls. This theory rests upon the notion that Republicans will "overreach," as they are prone to do. The investigation could backfire if Republican committee members create sympathy for the White House and its allies with an overzealous inquiry that takes on the flavor of a political show trial.
That eventuality could come to pass; no one will know for certain until the investigation commences. That has not stopped Democratic political strategists, however, from prematurely rubbing their hands together in eager anticipation.
The Benghazi select committee, nascent as it is, is already disappointing those members of the political class who predicted it would become a Republican self-inflicted wound. Far from uniting Democrats around the notion that the White House is being subjected to a witch-hunt, the decision to convene a select committee appears to be tearing the Democrats in Congress apart.
"I admit, Benghazi is to progressives what climate change is to conservatives: No matter how much the right wing shrieks about it, and purports to have new evidence of wrongdoing, we don't believe it," wrote Salon editor Joan Walsh this week displaying a unique degree of candor and self-awareness. "The difference is, progressives are right."
Walsh gave voice to a point of view favored among unelected liberal bloggers and equally insulated Democratic House members when she wrote that her party is best served by boycotting the Benghazi investigation. Echoing a sentiment expressed by Democratic Rep. Adam Schiff who hails from a D+20 district in California, Walsh urged Democrats in Congress to decline to participate in the committee and thus rob it of legitimacy. "This is nothing more than a kangaroo court in the making," California's Rep. Xavier Becerra concurred from the safety of a D+30 district.
Those Democrats who are responsible to slightly more fickle constituencies did not agree. Seven Democrats defected on Thursday and voted in favor of a resolution to establish the select committee, five of whom are considered by the Democratic Congressional Campaign Committee to be endangered.
With a bipartisan vote authorizing the establishment of the committee, a partisan boycott would undermine those vulnerable Democrats' positions. Aware of that, according to Politico reporter Jake Sherman, Democrats began "openly clamoring" for leadership to appoint members to that committee almost immediately after the resolution passed. Once again, the dispirited progressive blogosphere has had the football ripped out from under them.
With a boycott virtually scuttled, congressional Democrats settled back on an earlier demand that the committee be evenly split between Democrats and Republicans – a courtesy Democrats did not extend Republicans when they were in the majority and is a condition exclusive to the House Committee on Ethics. Nevertheless, Republicans were advised by analysts like NBC's Chuck Todd to "accept [House Minority Leader] Nancy Pelosi's (D-CA) terms."
"It would get some political legitimacy back because right now I feel like it looks nothing more than a partisan stunt," Todd opined on MSNBC. Congressional Republican leadership has so far disregarded this well-meaning advice, but the fallout for the GOP has yet to materialize.
On the Democratic side, meanwhile, the party is going to war with itself over how they should engage this committee. "Pelosi's allies appear split," Politico's Sherman and Lauren French reported on Friday. "Connecticut Rep. Rosa DeLauro (D-CT) sent a letter to colleagues Thursday evening suggesting that just one Democrat should sit on the panel. Rep. Henry Waxman (D-CA), a veteran of congressional investigations, signaled he wants multiple members of his party on the committee."
In response to the lack of unity, Pelosi marshaled all the sarcasm she could ooze at a Friday morning meeting with the members of her caucus. "Thanks a lot for giving me leverage over the last couple of days," she scolded.
Hours later, Pelosi told the press that she maintains a range of options; from fully staffing the committee, to sending just one member in protest, to a full boycott. "Let's see what they come back with in terms of the terms of engagement," she added. Watch below:
Pelosi concluded by noting that Democrats are also seeking assurances that their members will be allowed to depose and subpoena witnesses and to release documents to the public as they see fit. This sounds like the "terms of engagement" are being negotiated internally rather than with Republicans.
There are plenty of pitfalls for Republicans as they head into a charged investigation that the media is predisposed to see as an unwarranted and partisan exercise. Republican members of Congress and the party's campaign committees could inspire a backlash if their conduct during the investigation exceeds the bounds of taste. At the moment, however, the only party displaying signs of stress under the weight of the Benghazi investigation is the Democratic Party. And the investigation has not yet even begun.
[Image via Jonathan Ernst/Reuters]
— —
>> Follow Noah Rothman (@NoahCRothman) on Twitter
Have a tip we should know? tips@mediaite.com