Benghazi Whistleblower Reacts To Hillary Clinton Saying 'What Difference Does It Make?': A Lot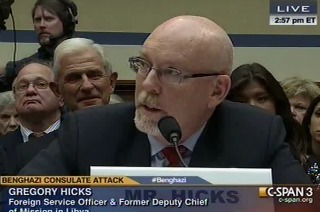 On Wednesday, Gregory Hicks, the former deputy chief of mission in Libya, was asked to react to a statement made by Hillary Clinton who asked why it was relevant that the White House had initially blamed a YouTube video for the attack on an American consulate in Benghazi. "What difference, at this point, does it make?" Clinton asked. Hicks responded today by saying that the administration's linking of the attacks to a YouTube video made a big difference in regards to Libya's relationship with Washington.

RELATED: MSNBC Panel: Hillary's 'What Difference, At This Point, Does It Make' Moment Was Her 'At Her Very Best'
Rep. Paul Gosar (R-AZ) gave Hicks the opportunity to respond to the question asked by Clinton in January.
"[Libyan] President [Mohamed] Magariaf was insulted in front of his own people, in front of the world," Hicks replied. "His credibility was reduced. His ability to lead his own country was damaged."
"He was angry. A friend of mine who ate dinner with him in New York during the U.N. seasons told me he was still steamed about the talk shows two weeks later," Hicks added of U.N. Amb. Susan Rice who blamed the attack on demonstrations arising from a YouTube video.
"I definitely believe that it negatively affected our ability to get the FBI team quickly to Benghazi," Hicks added. He said that the FBI's arrival at the scene of the attack was postponed by 18 days as a result of the White House's decision to blame the attack on the video.
Watch the clip below via C-SPAN 3:
> >Follow Noah Rothman (@NoahCRothman) on Twitter
Have a tip we should know? tips@mediaite.com