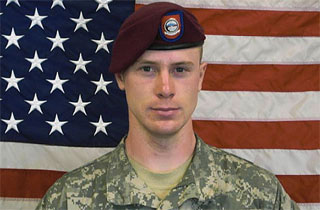 In copies of two letters obtained by the Daily Beast's Kimberly Dozier, freed Army Sgt. Bowe Bergdahl critiqued the leadership in his unit and pleaded for his family and the military to await for the entirety of the facts before judging his departure his base.
The letters were sent to his family via the Red Cross in 2012 and 2013; the Daily Beast obtained copies from a source in contact with the Taliban and confirmed their authenticity with U.S. officials. The first of the two letters featured a long philosophical discourse about god, nature, mathematics, and more. In the second letter, Bergdahl addressed concerns that he'd deserted his post.
"Leadership was lacking, if not non-existent," Bergdahl wrote. "The conditions were bad and looked to be getting worse for the men that where actuly [sic] the ones risking thier [sic] lives from attack…The cercomstance [sic] showed signs of going from bad into a nightmare for the men in the field. Unexeptable [sic] conditions for the men working and risking life every moment outside the wire."
"If this letter makes it to the U.S.A., tell those involved in the investigation that there are more sides to the cittuwation [sic]," the letter continued. "Please tell D.C. to wait for all evadince [sic] to come in."
The Daily Beast also received letters from the Bergdahl's back to the Taliban, asking for more video of their son, which the site did not release.
Read the full letters HERE.
[h/t Daily Beast]
[Image via screengrab]
——
>> Follow Evan McMurry (@evanmcmurry) on Twitter
Have a tip we should know? [email protected]