Bergdahl Reportedly Didn't Trust Commanders, Tried to Walk to Nearest U.S. Outpost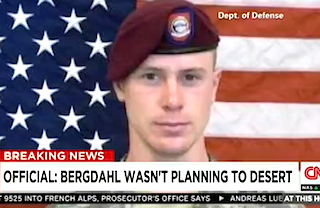 Two days after Sgt. Bowe Bergdahl was charged with desertion for walking off his U.S. military base in Afghanistan in 2009, CNN has reported a potential bombshell in the case. According to unnamed military sources, an Army report is expected to reveal that Bergdahl intended to "walk to the nearest U.S. military outpost to report wrongdoing, believing he could not trust his own commanders to deal with his concerns."
The new information gives a window into Bergdahl's potential defense for the desertion offense, which carries a maximum penalty of life in prison. CNN's sources say the report, which was presented to General Mark Milley, indicated Bergdahl had "concerns about leadership issues at his base."
"I can't tell you if his concerns were valid, but in his mind they were," the unnamed official told CNN.
Before Bergdahl could reach another U.S. outpost, he was captured by the Taliban and held for five years before ultimately getting released last spring in a trade for five Taliban detainees being held at Guantanamo Bay.
"He was going to walk to the nearest outpost to report what he believed was wrongdoing, poor leadership, order and discipline problems at his base, that he didn't feel he could stay and report it at his base, perhaps not trusting the leadership there," CNN's Barbara Starr reported on air late Friday morning.
"I think it's fair to say his defense attorneys may try to make the case of a much lesser charge of AWOL, absent without leave," she added, "that he never intended to be away permanently, he never intended to join the enemy, that he was always going to come back."
Watch the report below, via CNN:
[Photo via CNN/screengrab]
— —
>> Follow Matt Wilstein (@TheMattWilstein) on Twitter
Have a tip we should know? tips@mediaite.com