Bergdahl Squad Leader: Taliban Attacks Got 'More Direct' After Bergdahl 'Deserted'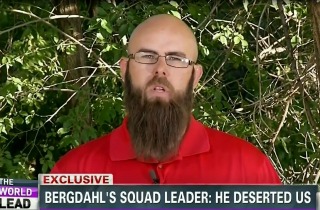 U.S. Army Sgt. Bowe Bergdahl's squad leader who commanded him on the night he disappeared, Staff Sgt. Justin Gerleve, joined CNN host Jake Tapper on Wednesday where he said the former Taliban prisoner "totally deserted." Gerleve confirmed, as have others who served with Bergdahl, that he believed attacks on American personnel became more direct and accurate after the captured American solider was taken by the Taliban.
"I believe that he totally deserted not only his fellow soldiers but his leadership that wanted the best for him and for our country," Gerleve told Tapper. Gerleve said that he believes this because of the actions Bergdahl took and comments he made prior to his disappearance.
RELATED: Fmr. Soldier: Military Told Unit to 'Not Tell the Truth' About Bergdahl
Gerleve said that Bergdahl abandoning his post and fellow soldiers was "heartbreaking."
When asked if he believed, as his fellow soldiers have said, that attacks on U.S. troops got worse after Bergdahl abandoned his post, Gerleve replied, "Yes."
"As one of the soldiers have stated, the attacks did get more direct, the IEDs did get more pinpoint to our trucks rather than the side of the roads, and everything like that," Gerleve added. "I can't say for sure the leakage was from Bergdahl, but it's kind of a suspicion that it did happen."
"Everything that we taught him, I mean, it was coming to — as far as direct attacks and indirect attacks," he continued.
Gerleve confirmed, though with less certainty about the exact wording than his colleague, Sgt. Evan Buetow, that Bergdahl did seek out English-speaking members of the Taliban. "There was no other — any other American out there running around or doing what activity, you know, that was reported to us except for him on that day," Gerleve said.
Gerleve added that the six soldiers who died seeking Bergdahl out may not have found themselves in the line of fire had the former Taliban captive not left his post. While he said that "no American needs to be left behind," Gerleve said that he hopes Bergdahl stands trial for his actions.
"I feel that the hero's welcome is not right, because he did desert," Gerleve concluded. Asked if he agreed with National Security Advisor Susan Rice who praised Bergdahl's service, Gerleve replied, "No."
Watch the clip below, via CNN:
[Image via screengrab]
— —
>> Follow Noah Rothman (@NoahCRothman) on Twitter
Have a tip we should know? [email protected]