Bernie Goldberg And Bill O'Reilly Disagree On How Vulgar Jon Stewart And His 'Cute Little Smile' Can Be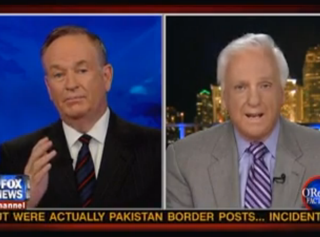 Bernie Goldberg's weekly media critique with Bill O'Reilly centered on the controversy surrounding the intro music The Roots used for Rep. Michele Bachmann on Jimmy Fallon's show last week (a ditty called "Lyin' Ass Bitch") but took a personal turn down Memory Lane as O'Reilly compared what Fallon's house band did to other political comedians, namely Jon Stewart, who he argued was above it. Goldberg, speaking out of personal experience, disagreed: "Atewart had a black church choir telling me to go you-know-what myself, and this went on for twelve minutes."
RELATED: NASCAR Boos Vs Lyin' Ass Bitch: How Have The Media Treated Michelle And Michele?
Goldberg noted that he believed the apology Rep. Bachmann received from NBC was "not one of those weasel apologies where 'if we offended you, we're sorry'– at least on paper it looked like a genuine apology," though he did consider it a double-standard for conservatives that no one was fired. O'Reilly suggested the executive producer of Late Night with Jimmy Fallon should've been fired, though Goldberg didn't think there was a an issue that demanding anyone's job. Goldberg argued it was a mistake, one driven by the fact that "the way entertainers who are appealing to a young audience show how edgy and cool and hip they are is by doing stuff like this."
RELATED: NBC Apologizes To Michele Bachmann For 'Disrespectful' Jimmy Fallon Song
"There is nobody hipper or who depends on a younger audience than Jon Stewart," O'Reilly countered, "and Stewart wouldn't do this." Goldberg begged to differ. "Stewart had a black church choir telling me to go you-know-what myself, and this went on for twelve minutes on his show," he reminded O'Reilly, concluding that even though Stewart "comes on and hides behind that cute little smile of his [he] is capable of the same kind of vulgarity as this." O'Reilly defended Stewart by noting that that sort of humor was different because "he didn't do it in a stealth way," and while not as "it isn't sneaky" the way Fallon's house band playing a vulgar song while a guest is walking into the studio.
so jon stewart who comes on and hides behind that cute little smile of his is capable of teh same kind of vulgarity as this. Goldberg clarified that "I laughed for twelve minutes when he did it; I didn't have a problem," but nonetheless it was this sort of vulgarity that comedians used to "appeal to young people" that does not discriminate among popular comedians.
The discussion via Fox News below:

Have a tip we should know? [email protected]