O'Reilly And Bernie Goldberg Tear Into Benghazi Media Bias: MSNBC Is White House's 'Public Relations Firm'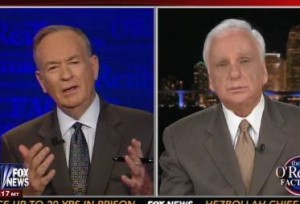 Bill O'Reilly brought on Bernard Goldberg tonight to analyze how much the media has covered Benghazi in the aftermath of yesterday's big hearing. O'Reilly noted how Fox News gave it the most coverage, the nightly newscasts gave it a few minutes of coverage, and MSNBC pretty much ignored it. Goldberg said that MSNBC ignoring the story basically makes the network no more than a "public relations firm" in the employ of President Obama and the Democratic party.
RELATED: The Five Hosts Blast 'Media Hacks' Maddow, Stewart, Colbert For 'Covering Up' The Benghazi 'Cover-Up'
O'Reilly cited statistics showing that Fox News covered the hearing live for almost two hours, CNN for roughly fifteen minutes, and MSNBC for absolutely no time at all. He pointed out that all of the network newscasts led with the big news story from Cleveland, but the CBS Evening News had the most coverage, clocking in at almost five minutes. The morning shows had similarly minimal coverage.
Goldberg declared MSNBC to be a "public relations firm" for Obama and the Democrats, who don't want Benghazi covered, calling their lack of coverage "shameful." He also said the media gave more coverage to Cleveland and Jodi Arias than Benghazi because the American people are "babies" who get distracted by shiny objects and only care about "sexy" stories. He also took Mike Huckabee to task for claiming that Benghazi would mean Obama would have to leave office before his term is over, saying that it's just "wishful thinking masquerading as political analysis."
O'Reilly credited CBS for doing a fair job of covering the story, but agreed that the media coverage has been scarce because "there's no drive by the folks." Goldberg pointed out that most people get their news from the web, and neither Google News nor Yahoo News featured any big Benghazi news on their home pages.
Watch the video below, courtesy of Fox News:
—–
Follow Josh Feldman on Twitter: @feldmaniac
Have a tip we should know? tips@mediaite.com
Josh Feldman - Senior Editor