Bernie Goldberg And O'Reilly Would Not Have Aired ABC Marianne Gingrich Interview: 'It's Old News'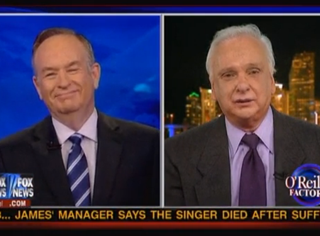 Since ABC News followed up Thursday night's explosive CNN debate with an interview of Newt Gingrich's second wife, Marianne, the ethics of having brought the claim that Gingrich was interested in an open marriage into public debate has been in contention, and last night on The O'Reilly Factor, Bernie Goldberg fell squarely in the camp against putting the interview out there. Bill O'Reilly agreed: "reasonable people may disagree," Goldberg noted, but neither felt comfortable with the information.
RELATED: Bombshell?! ABC News Airs Marianne Gingrich Interview We've All Been Waiting For
"I wouldn't have," Goldberg told O'Reilly, and explained that "it has nothing to do with whether I like or dislike Newt Gingrich," but had more to do with the fact that, despite being "a ratings bonanza," "it's old news." He added that he believed "everything the electorate needs to know about Newt Gingrich's character" is already in the public eye.
That said, Goldberg added that ABC's Brian Ross, who ran the interview, was a "top-notch reporter," so much so that he begins his report warning the audience to take the interview with a grain of salt. "Why are you running the interview in the first place?" he asked of the reporter. O'Reilly added that "in my conscience, I can't do that kind of reporting," because he believed that "any gutter snipe in the world… can attack somebody personally and get somebody to back it up."
The two clarified that their objection was not directed at ABC or Ross, but mostly at Marianne Gingrich. "When you reveal a conversation from the privacy of a marriage and you share it– not with your sister or your best friend– but a couple of million strangers, that's not a classy move," Goldberg said, and "if it's payback, that ought to be factored into whether or not to run the interview."
O'Reilly moved on to some interesting media facts about the way the campaign is being covered, noting that a new study shows that Mitt Romney gets much of the negative press, more than other candidates. Goldberg had a quick explanation for that: "it's because hes the frontrunner, and journalists love to tear down frontrunners, especially Republican frontrunners." Goldberg went on to highlight another part of the study, though, that lauded Fox News' as the "most balanced overall coverage," while deeming NBC to have the most negative coverage. O'Reilly, laughing, went on to simply note that MSNBC would have election coverage tonight.
The segment via Fox News below:

Have a tip we should know? tips@mediaite.com