Bernie Goldberg Backhandedly Supports "Hypocritical" NYT's Wikileaks Publishing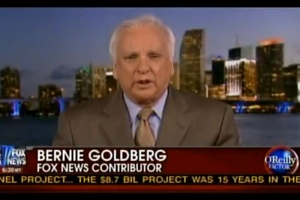 After a blistering "Talking Points" segment in which Bill O'Reilly called Wikileaks editor-in-chief Julian Assange a "sleazeball" and called for the execution of those in the State Department, his weekly partner in crime Bernie Goldberg stepped up to the plate to defend those who despite being regular targets for his disapproval, today garnered support– the New York Times.
"I don't blame the New York Times for publishing the story," Goldberg told O'Reilly of the Wikileaks diplomacy files, echoing a sentiment expressed earlier on the network by Shepard Smith and Judge Andrew Napolitano, generally supporting the spread of information and pointing out that the information "would get out anyway because Wikileaks gave it to other papers in Europe." Not that he was completely happy with the Times, however– while he believed they did the right thing this time around, he had a bone to pick about hypocrisy in publishing information.
Reverting back to the Climategate emails– also released by Wikileaks– Goldberg noted that "the New York Times writer who has a New York Times blog about just this subject" refused to publish those emails. In light of publishing a leak targeted at another community, he continued, their "great concern for privacy and confidentiality when the global warming community becomes suspect." For O'Reilly, it was plausible that their decision rested on the level of importance of the emails, and confidential state information being more enticing to publish than correspondence among climate scientists. Goldberg took the point, but still faulted the Times for not leaking the first time around.
As to the response from the Obama administration, both O'Reilly and Goldberg agreed that any excessive panic would hurt the President's public resolve. "If the administration makes a big deal about it," Goldberg commented, "it makes the administration look weak." He also agreed with a point O'Reilly made earlier in the program, that "nobody's afraid of this administration, and that doesnt' do us a lot of good in the world community."
Tonight's discussion on the New York Times, Wikileaks, and President Obama's response via Fox News below:

Have a tip we should know? tips@mediaite.com