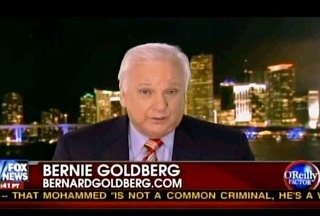 After a good week or two of snickering speculation over Donald Trump's semi-presidential media blitz, Bernie Goldberg dropped quite the bombshell on tonight's O'Reilly Factor: according to reliable sources, Trump has made up his mind and, yes, he is gunning for the GOP nomination. With that out of the way, Goldberg and Bill O'Reilly moved onto the second order of business: will the media ever take him seriously?
Goldberg began his weekly segment with exciting news, filling the role of "reporter" and not "analyst" for a few minutes to confirm that, "barring any unforeseen circumstances," Donald Trump was indeed running for the Republican nomination for President. Then, switching back to analyst, he told O'Reilly that he found it very unlikely the media would take him seriously, initially because they simply don't think he will run ("they think it's all publicity"), and, once he does run, because "the media is insular" and has a hard time digesting political candidates that aren't career politicians. The problem with that perspective, Goldberg argued, is that the national sentiment towards career politicians is at an all-time low: "it's a big plus in this day and age not to be a politician."
O'Reilly agreed, though he expressed concern about the media's "confusion" about Trump's potential run. He compared the bad press to what Sarah Palin has had to endure. "The press has been kind of snarky, not vicious like Palin, but condescending," O'Reilly noted, asking if it will get worse as time goes along. "It will if he catches on," Goldberg predicted, reiterating that the fact that "most politicians couldn't run a lemonade stand" gives Trump an edge, but alienates the media, which "will get nasty" if Trump's poll numbers rise enough to make him a viable candidate.
The segment via Fox News below:

Have a tip we should know? tips@mediaite.com