Bernie Goldberg Defends Bob Costas From Conservative Critics On O'Reilly: They Should Be Agreeing With Him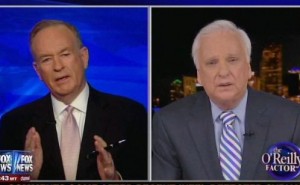 The latest media bias controversy has put sportscaster Bob Costas in the spotlight over a brief piece of commentary last night in which he used the murder-suicide case involving Kansas City Chiefs linebacker Jovan Belcher to suggest gun control needs to be revisited. Costas came under some serious fire from conservatives, but on Bill O'Reilly's show tonight, Bernard Goldberg stood up for his friend and said Costas has nothing against guns nor the Second Amendment.
RELATED: S.E. Cupp Battles Steve Kornacki Over Bob Costas 'Shameful' Pitch for Gun Control During NFL Game
Goldberg said he knows Costas to be "a very thoughtful guy," and earlier today spoke with him at great length. What Goldberg concluded from their conversation was that Costas would not repeal the Second Amendment and is not personally opposed to guns. However, Costas does favor "reasonable gun control' so that people cannot just horde an entire arsenal in their basements.
Goldberg also pointed out that Costas was not commenting on gun laws, but on the U.S.'s "gun culture," and said Costas was making a point his conservative critics should be allies with him on.
"People on the right should be, first and foremost, in favor, agreeing with him on this attitude. This attitude, as he said, deadens empathy in some people and has more bad things happening with guns than good things."
O'Reilly pivoted to a broader discussion about football and Goldberg's previous reporting on head trauma in the NFL. O'Reilly asked Goldberg if he believes there is a link "between football and madness." Goldberg said that the science shows repeated blows to the head can lead to depression, early onset dementia, Alzheimer's, and even Lou Gehrig's disease.
O'Reilly wondered if given all the substances NFL players are taking, this is a group of people that is especially prone to madness. Goldberg said that a person could easily smoke and not get lung cancer, but like football, it is a high risk activity with a number of dangerous side effects.
Watch the video below, courtesy of Fox News:
—–
Follow Josh Feldman on Twitter: @feldmaniac
Have a tip we should know? tips@mediaite.com
Josh Feldman - Senior Editor