Bernie Goldberg On Obama's Lack Of Press Conferences: "They're Control Freaks"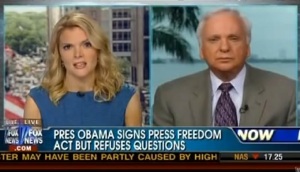 On Monday of this week, the White House arranged a video/photo opportunity for the press pool to cover President Obama's signing of the Daniel Pearl Freedom of the Press Act. At the end of President's statement, a plucky Chip Reid tried to ask a question, to which the President declined, claiming a press conference would be forth coming. The irony of the situation was first reported by Mediaite (on Monday), and was discussed yesterday by Megyn Kelly and Bernie Goldberg.
Bur Goldberg and Kelly omit a lot of crucial context in their criticsm. Mediaite's Tommy Christopher (who himself is a member of the White House Press Corps) says "the President never answers questions at bill signings. Maybe if the press poolers start firing questions all the time, that will change." Christopher continued "Chip was just trying to make a point. The shortened question period is also SOP for joint foreign leader appearances, although it's usually two questions apiece."
But the larger issue raise in the following clip is the question of access to the press in general. Critics of the Obama administration have bashed them for the dearth of Presidential press conferences, often citing campaign rhetoric pledging a more open and transparent White House culture. These are the familiar notes hit in the exchange below, but not everyone sees the issue as black and white as Goldberg and Kelly do.
Christopher believes that the real issue on the White House relationship with the media is that "it's a matter of record. It's not the quantity of press conferences but rather the format, and I agree that that needs improvement. But this White House is no different from any other in its desire to shape its press coverage. The big difference is that this President faces a much sharper press corps, and operates in a much more chaotic, and transparent, media environment. They may have a heavier hand, but they've got a lot more to hold down."
Goldberg would likely see Christopher's quote as yet another example of the "slobbering love affair" between the media and Obama (a topic on which he's written a book.) But there is no denying that the media landscape in 2010 is very different than it was ten or twenty years ago. And a different approach, while open for fair criticism, does not simply mean that "they are control freaks" as Goldberg says below.
Have a tip we should know? tips@mediaite.com