Bernie Goldberg: Slobbering Media Enabled Obama; Created Unrealistic Expectations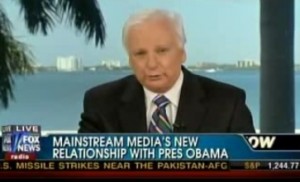 Want to know how best reinforce the meme that President Obama is a failure? First accept it as a factual thesis before debating the different ways in which the President has "fallen from grace." Case in point, the following segment on Fox News' America Live in which Bernie Goldberg blames the media for creating false and messianic expectations for a President who, in his words, passed unpopular things. Host Megyn Kelly accepted the premise on its face, before deflecting the blame to Obama's staff.
The core point of Goldberg's premise is that the media created a messianic figure in "Candidate Obama," setting up the inevitable downfall of "President Obama" who's standing in public opinion polls are flagging at best. And yes, there is no question about Obama's ratings – he has unquestionably endured a tough first two years of his administration (as did nearly every other president before him.) But the syllogistic reasoning behind his decline in popularity offered by Goldberg simply doesn't add up.
In Goldberg's world, the media are a bunch of leftists who are completely unaware of their bias. While its true that many individuals across the political spectrum agree with Goldberg's assertion of a slobbering love affair with Obama during his run for president, its also fair to point out that, without question, the most dominant voice in news right now is Fox News, an outlet that has amplified a consistent and powerful message in the first two years of his presidency that can be summed up as "Obama is a socialist."
So while on one hand Goldberg makes a legitimate point about false expectations of a messianic figure in Obama, its not entirely fair to lay that entirely on the feet of a liberal media. Because evidenced purely by ratings and prime time programming at Fox News, there is more to the story of Obama's flagging ratings.
Have a tip we should know? tips@mediaite.com