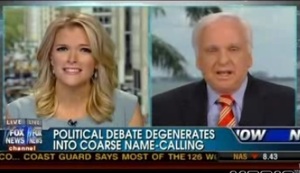 Last night Jon Stewart provided an epic rebuttal to recent criticism he had received from Fox News analyst Bernie Goldberg (who was responding in kind to criticisms that he had received from Jon Stewart.) Today, Goldberg discussed the tete-a-tete with Stewart during an appearance on America Live with host Megyn Kelly and hit back hard about Stewart's refusal to be fair and balanced.
Kelly set the tone by asking if it's funny, to which Goldberg joked "He's throwing spitballs at a battleship." Goldberg went on to claim that he had no problem with what Stewart did last night. Goldberg then went on criticize the most loyal fans of Jon Stewart who went on Goldberg's website and wrote vile things on his message boards, calling those fans "sewer rats."
Regarding the promotional value of this debate, Goldberg self-aggrandized a bit:
Listen, if this is going to help anybody, it's going to help Jon Stewart more than it's going to help me. I don't need any help. I'm on with you and I'm on with Bill, and he's on with a relatively small audience and if he can get some attention by this debate he'll do it. But I don't have any interest in pursuing this, and if he does, that's up to him, and I'm cool with it.
But Goldberg saved his biggest jabs for the end, when he went on the following rant, that was a direct response to the criticism he received from Jon Stewart:
Jon Stewart criticized me by name because he said I made generalizations about liberals. But then he says when he ignores generalizations by people he agrees with, like Frank Rich of the NYT, he ignores their generalizations which paint conservatives and Republicans and Fox News people as Nazis and whatever else, he says, well, I never said I was fair. Well, come on, Jon, Man up. Man the hell up.

You can't criticize us at Fox for generalizing about liberals, then you do the same thing or ignore it when it happens and then say I'm not a newsman. I'm not buying that. I'm not buying that for a second.
There is a decent debate about who is winning this back-and-forth between Goldberg and Stewart – both are very successful in their own right (though, judged purely by Peabody awards and Emmys, Jon Stewart wins by a longshot.) But there is no question who the real winner is: us viewers.
Have a tip we should know? tips@mediaite.com