Bernie Goldberg To Bill O'Reilly: Sometimes Cable News Hosts Have To 'Shut The Hell Up'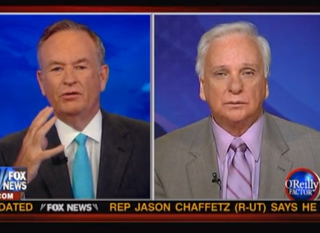 Today was Bill O'Reilly's return to manning the fort at the Factor, and he came back to some unfinished business between his substitute host Laura Ingraham and Rep. Charlie Rangel, who dismissed her (and then apologized) as "just a pretty girl." Discussing the issue with Bernie Goldberg, however, O'Reilly found him somewhat sympathetic to Rep. Rangel, arguing that Ingraham was "lucky" that's the most he said, given that she was constantly interrupting.
O'Reilly explained that over the break, as he was swimming, he got a series of messages along the lines of "watch your own show, idiot!" regarding the Ingraham/Rep. Rangel segment,and asked Goldberg for his impression. He gave "a big emphatic no" to the underlying question of whether the Congressman had crossed a line, arguing, "when did we become such sissies that something like this becomes a big deal? It's clearly a generational thing."
Aside from the comment itself, however, Goldberg took issue with Ingraham's interrupting. "Laura is lucky that that's all he said about her," he noted, "because there ought to be a rule on this show: the host asks a question and then shuts the hell up." He added that Rep. Rangel "was clearly frustrated," an argument O'Reilly didn't entirely buy. "It wasn't the pretty girl thing," O'Reilly countered, "'just' is the key word there." He added that, as an interviewer, "you have to interrupt when you ask a question– you know this– because many times the question isn't answered." The irony wasn't lost on Goldberg that, in order to make that point, O'Reilly interrupted.
"Are you alleging right here on your program– right here, right now– that Charlie Rangel would lie?" Goldberg asked, to which O'Reilly replied in the negative, which was a "relevant" point to Goldberg. O'Reilly replied saying he wouldn't allow answers that were either "dishonest or a dance," a point Goldberg used against him, as he would not argue that Rangel's answer fell into either two categories. "A lot of times the hosts have an agenda, and the person starts to answer the question, but they want to make a speech," Goldberg replied. He did agree ultimately, however, that guests who "filibuster" should be interrupted (as well as jokingly coming to a consensus on the idea that Goldberg himself was on television as "a pretty face with nothing upstairs.")
The segment via Fox News below:

Have a tip we should know? tips@mediaite.com