Bernie Goldberg Turns Tebow Discussion Into Soapbox On Religion: 'Ridiculous To Think The Earth is 6,000 Years Old'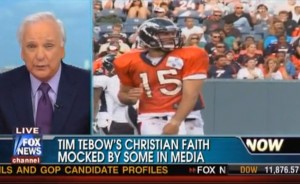 Denver Broncos quarterback Tim Tebow has gone meta. It's no longer annoying for Tebow to praise Jesus after interviews, or take a knee after a touchdown as a tribute to God. It's now become tedious to have to listen to commentators and analysts talk about how other people are annoyed over Tebow's antics. Megyn Kelly brought in Fox News analyst Bernie Goldberg on Wednesday to talk about the phenomenon, and, while Goldberg made some solid points about the reaction, he managed to steer the interview a little bit off the rails at one point.
Goldberg took the opinion that Tebow is the most polarizing figure in the world of sports, "because he's got a squeaky clean image," and he's not afraid to wear his faith on his sleeve. "What am I missing here?" Goldberg asked, after pointing out that Tebow didn't kill dogs or run over innocent pedestrians while driving drunk. "Something is wrong with this picture, Megyn."
Kelly mentioned that reaction to Tebow's actions have elicited "anger and vitriol." Goldberg took this opportunity to point out that there is intolerance on both sides, using the clever segue of bashing the beliefs of some Christians.
"It's ridiculous to think that the Earth is 6,000 years old and that dinosaurs walked around at the same time as people did. It's ridiculous. And if the Bible says so, the Bible is wrong. By the way, I'm going to get a thousand emails for what I just said. On the other side, the side always telling us how tolerant they are, are intolerant of people who profess their faith in a public way."
Thank God — or someone/something/nothing at all — that Goldberg balanced that one out fairly. Because Kelly, who quickly put Goldberg back on track, had to ask him if a Muslim expressing his faith in a Tebow-esque way after scoring a touchdown would receive the same treatment.
RELATED: Bob Beckel Makes A Scathing Christian Case Against Tim Tebow On Hannity
"I have a feeling that the people who don't like Tim Tebow doing it wouldn't have a problem in our hyper-sensitive world if a Muslim did it. However, to be fair about this — I think a lot of people who see no problem with Tim Tebow doing it might have a problem if a Muslim did it. There's intolerance and hypocrisy on both sides when it comes to religion."
Watch the entire clip on Tebow's inadvertent divisiveness below, courtesy of Fox News:
Have a tip we should know? tips@mediaite.com