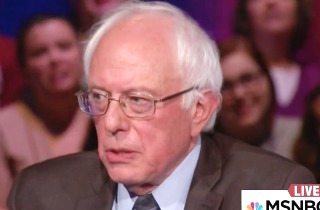 A new ad from Democratic presidential candidate Bernie Sanders claims or strongly implies that he got an endorsement from two local newspapers that never endorsed him at all.
The ad, titled "Endorsements," highlights the endorsements Sanders received from The Nation and several unions and liberal advocacy organizations. Included in the ad are laudatory quotes from New Hampshire's Nashua Telegraph and Vermont's Valley News, both of which are influential papers in the crucial primary state of New Hampshire.
One could be forgiven for thinking that The Telegraph endorsed Sanders. But if you pay attention, the words "endorsed by" appear above the names of the other publications, but not The Telegraph. In other words, Sanders' ad never actually says they received their endorsement, they just strongly imply it by placing a praiseworthy quote in the middle of a bunch of other endorsements.
The Telegraph's editors weren't happy about what they called a "deceptive ad."
For the record, despite @BernieSanders deceptive ad to the contrary, @NashuaTelegraph has not endorsed any Dem prez candidate #nhpolitics

— Roger Carroll (@Telegraph_Rog) February 3, 2016
But the text of the ad did say that Sanders was "endorsed by" Valley News. There's only one problem: they didn't. The campaign removed that language in a later version of the ad.
Sanders was pressed on the issue during the Democratic debate Thursday by MSNBC moderator Rachel Maddow.
MADDOW: The Nashua Telegraph has complained recently that you falsely implied in an advertisement that they had endorsed you when they did not…

SANDERS: In terms of the last one, as I understand it, we did not suggest that we had the endorsement of a newspaper. Newspapers who make endorsements also say positive things about other candidates, and to the best of my knowledge, that is what we did. So we never said, never said that somebody, a newspaper endorsed us that did not. What we did say is blah blah blah blah was said by the newspaper.

MADDOW: Just to follow up on that, the title of the ad in question was 'Endorsement.'

SANDERS: But that was only for — that was not to be on television. That's an important point. That was just something — as the secretary knows, you put titles on ads and you send them out, but there was no word in that ad, none, that said that those newspapers had endorsed us.
That bolded statement was rated False by Politifact when they fact-checked the debate. "It originally included text that said Sanders had been 'endorsed' by the Valley News, a word that was later removed after it became clear that the newspaper had made no such endorsement," they note.
Watch above, via Sanders for President.
[Image via screengrab]
——
>>Follow Alex Griswold (@HashtagGriswold) on Twitter
Have a tip we should know? tips@mediaite.com