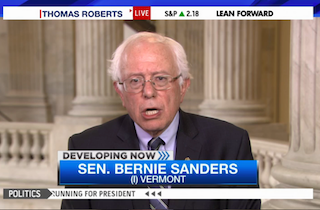 With MSNBC's cameras trained on the "press crush" outside Hillary Clinton's first event in Iowa, Thomas Roberts spoke to Sen. Bernie Sanders (I-VT) about his reaction to her campaign so far and his own potential to get in the race.
While Sanders did not say Clinton's entrance in the race has "inspired" him to run, he did have plenty to say about what he has seen from her so far. The senator found the media's obsession over her "Scooby" van absurd, joking that he "can't think of an issue of more significance to the American people," before outlining the issues he would like to see her putting forward, like Wall Street's power over the middle class. "If I run, I want to run a serious campaign," he said, perhaps suggesting that is not the case for Clinton.
Sanders told Roberts that Americans need a candidate "who will deal with the most important issue, and that is are we prepared to take on billionaire class, which has so much power over our economic and political life." Asked if he does not believe Clinton is "out for the little guy," Sanders said he just doesn't know yet.
"Why don't you tell me what Hillary Clinton is campaigning on, do you know?" Sanders asked. "You don't know and I don't know and the American people don't know."
In her roundtable event that followed Sanders' interview, Clinton did lay out her positions on some of the issues about which he cares most. "I want to be the champion who goes to bat for Americans in four big areas, four big fights that I think we have to take on because there are those that don't agree with what I think we should be doing and they're pretty powerful forces," she said.
That list included a pledge to "fix our dysfunctional political system and get unaccountable money out of it once and for all even if that takes a Constitutional amendment," something Sanders would likely get behind.
Watch video below, via MSNBC:
[Photo via screengrab]
— —
>> Follow Matt Wilstein (@TheMattWilstein) on Twitter
Have a tip we should know? tips@mediaite.com