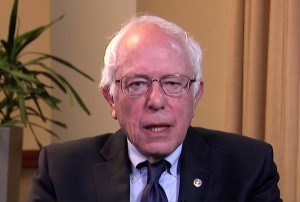 Thanks to the New York Times, the 2016 veepstakes are in full swing, and while independent Vermont Senator and Democratic presidential candidate Bernie Sanders left open the possibility of running on a ticket with Hillary Clinton at Monday night's town hall, he seemed to shut the door a little on Hillary running as his VP Tuesday morning. Asked by Morning Joe regular Mark Halperin if he would commit to naming a woman as vice president, Sanders said he would consider it. When Halperin followed up by asking Bernie if he could name a few women he feels are qualified, Sanders said there were "many," but was reluctant to name any. Well, almost any:
Halperin: Are there any women in particular you think would be qualified for that job?

Sanders: Are there any women? Yes, there are many women who would be qualified for that job.

Halperin: Could you name a few?

Sanders: I think it's a little too early to be speculating on that. But I think, as you know, there are people in life, Elizabeth Warren, I think, has been a real champion in standing up for working families, taking on Wall Street. There are other fantastic women who have been active in all kinds of fights who I think would make great vice presidential candidates.
Sanders' reluctance to speculate about a VP pick is pure campaign boilerplate, but then why name Elizabeth Warren at all, why not just leave it at "there are many women who would be qualified for that job?"
I suspect many will see in Sanders' response a slight of Hillary Clinton, but it's much more likely that Sanders is signaling to his supporters and to Hillary Clinton the sort of candidate he would like to see Hillary pick if she's the nominee, while also pleasing his own supporters by dangling Warren as his own pick.
Have a tip we should know? tips@mediaite.com