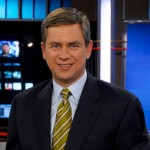 Regis Philbin's version of Who Wants to be a Millionaire returns to ABC primetime on Sunday. Earlier this week, CBS revealed Let's Make a Deal is coming back to TV in the fall with Wayne Brady as host. I'm hopeful both shows deliver solid ratings.
Somewhere in the rush to fill dozens of hours a week with reality-competition shows we've left behind the traditional studio game show.
I became a game show fan long before I hosted Studio 7 and World Series of Pop Culture. My mom and her parents watched just about every game show on TV when I was growing up. So I watched them too.
We had opinions about all of them. It took us years to get over Chuck Woolery's removal from Wheel of Fortune. We loved watching Tom Kennedy get genuinely excited to give away the big prizes on Name that Tune. Our fellow Canadian Alex Trebek at the helm of Jeopardy when it returned in 1984 made it all the more sweet.
Ratings prove there's a big audience when networks program a good game show. Millionaire's 1990s primetime run proved how big the numbers could get. After decades on the air, Wheel of Fortune is still appointment viewing. It did a 5.6 national rating in July. Jeopardy wasn't far behind with a 4.9 rating. (Those numbers are bigger than the ratings for Judge Judy and Oprah. Oprah.)
But of course, not all game shows are created equal. Some of the genre's newest assume that audiences want more show than game. I'm not convinced. Deal or No Deal can be great TV. But the play-at-home value of the show starts to wear thin because there really is no game to play.  What I prize is a real test of skill and logic.
Jeopardy and Wheel of Fortune are classics for a reason. They attract generations of fans because they are smart entertainment. Excitement, big prizes, lively hosts, clever graphics and scantily clad models are part of the package. But the core attraction of a game show is the game.
The stakes are high for Let's Make a Deal. It isn't my favorite format, but I'm all for it if Wayne Brady's sharp wit can help to prove to that there's room for classic studio game shows to make a comeback. To make sure it's faithful to the original, 87-year-old creator Monty Hall (another Canadian!) will act as a consultant and may appear on the new version to give his blessing to Brady. CBS has the right instinct with Deal — it's fun, affordable programming. The network also has revivals of Pyramid and the Dating Game in the pipeline. (Disclosure: I'm a big fan of Dick Clark's work on Pyramid and auditioned for the revival, but wasn't selected for the June pilot.)
In the 60s, 70s and 80s the big three networks all had a daytime game show block. Only The Price is Right survived. I'm hoping good ratings for primetime Millionaire and Let's Make a Deal will remind network programmers, as well as the rest of us, that a straightforward game show has timeless appeal. The oldies are still the goodies.
TV newsman Pat Kiernan picks his favorite stories from the morning papers each weekday on NY1 News and PatsPapers.com. He's known to VH1 fans as the host of World Series of Pop Culture. Twitter: @patkiernan
Related In Classic TV Game Show Moments: Cliff Clavin on Jeopardy on Cheers …
Have a tip we should know? tips@mediaite.com