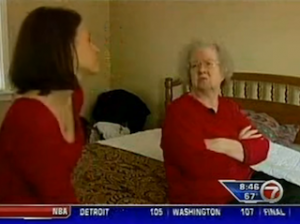 Maybe Howard Dean was right. Our nation's elderly are out of control. They're hanging out in strip clubs, beating grown men with umbrellas, and robbing banks. At least, that's what 70-year-old Sandra Bathke from Minnesota did. She's now received 35 days in prison and 15 years probation for the crime and gave an interview in which she proves she's just tough as the country's most feared gangsters. If only there was a brave, young politician who could put keep these elderly law breakers under control…
Here's how her crime went down courtesy of Minnesota's WCCO:
"The robbery happened on Dec. 15, 2010 at the Elysian State Bank. Police said Bathke duped her landlord's son into giving her a ride to bank. He thought he was doing a good deed, but ended up being her unsuspecting getaway driver.

According to court records, Bathke entered the bank around noon, told the teller she had a gun and demanded money. She took off with $3,700.

Once she was arrested, she told police that she needed the money to pay rent or she was going to be evicted. Police later determined that she didn't have a gun, only a small hammer in a bag."
In the interview below, Bathke explains that she feels sorry only for the bank teller, not the bank and certainly not the bank's Vice President whom she calls an "arrogant SOB." Clearly this woman is cold and remorseless. Watch as she discusses her crime with the same steely eyes my grandmother gave me when I told her she should get a cell phone. Chilling.
Fortunately for the good people of Minnesota, this kingpin says her "life of crime" is over. However, can any of us truly be safe? You know what they say about old people. There are new ones every single day.
Check out the video from WSVN below:
Have a tip we should know? tips@mediaite.com