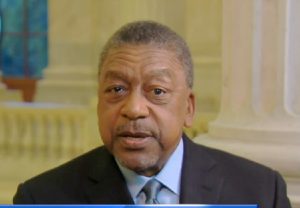 In an appearance on CNBC's Squawk Box this morning, BET founder Bob Johnson remarked that he didn't feel President-elect Donald Trump was a racist. He also noted that in a meeting with Trump after Election Day, the incoming POTUS offered him a spot in his administration.
Johnson spoke about his November 20th meeting with Trump's team at the Trump National Golf Club in New Jersey. He explained that Steve Bannon, Reince Priebus and Trump's son-in-law Jared Kushner were also present.
According to Johnson, while he went in not thinking it was a job interview, he was presented with a position regardless. However, he declined because he doesn't want to be part of government.
"It was an easy discussion, because I wasn't coming there on a job interview," Johnson noted. "He hinted at something I could be interested in, and I quickly shut that down. It was a cabinet position."
"But I can't work for the government," the RLJ Companies chairman stated. "Because to me as an entrepreneur trying to work in a government structure where you got to through 15 different layers of decision-making to get want you want done doesn't fit my mold."
Johnson also commented about whether or not he felt Trump was racist, a constant criticism that has been lobbed at the real estate mogul.
"To me, I never thought Donald Trump, and I still don't believe it today, was a racist. I don't believe that he's anti-African-American," he explained.
Watch the interview above, via CNBC.
[image via screengrab]
–
Follow Justin Baragona on Twitter: @justinbaragona
Have a tip we should know? tips@mediaite.com