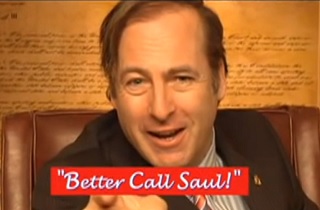 Bummed-out fans of American Movie Classics' Belize-bound Breaking Bad saga have reason to rejoice today, as AMC and Sony have announced production of a spinoff series that will focus on the pre-Walter White adventures of crooked lawyer Saul Goodman, portrayed by Bob Odenkirk. The announcement helps to ease the pain of Breaking Bad's imminent finale, and offers a ray of hope to an AMC that will also find itself bereft of Mad Men.

From The Hollywood Reporter:
"As conceived, the new series is based on the show's popular Saul Goodman character with the working title Better Call Saul," the studio and network confirmed in a joint statement, adding: "plans call for Saul to be a one-hour prequel that will focus on the evolution of the popular Saul Goodman character [played by Bob Odenkirk] before he ever became Walter White's lawyer."

The series will star Odenkirk, with writer/producerPeter Gould set to run the effort as it was Gould who created the character back in season. Bad creator Vince Gilligan, who conceived of the spin-off with Gould, will remain involved, and noted in late July that it was his "fervent wish" that the spinoff  move forward. At that time, Odenkirk added: "I'd do it in a second." A formal series order won't come until Gould, Gilligan and Odenkirk have deals finalized, a topic for which the network and studio declined comment.
AMC also announced the cancellation of The Killing, which alienated audiences by drawing out its first season mystery into a second season, and was unable to attrct viewers in its tighter, grittier third season.
Introduced in Breaking Bad's second season, the Saul Goodman character was almost killed by the series' two protagonists, but went on to become their attorney and assistant criminal mastermind. Like many of the show's characters, Saul's low-rent defense attorney could have become a one-note stock annoyance if not for the show's impeccable writing, and Odenkirk's surprisingly modulated performance. Time will tell if this turns into Frasier, or AfterMASH.
For the uninitiated, here's an AMC-produced commercial for Saul's law practice:
[photo via screengrab]
Have a tip we should know? tips@mediaite.com