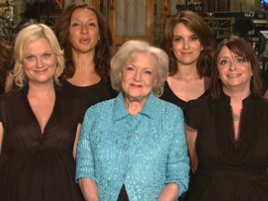 "If there's one thing I'm known for, it's my muffin," said Betty White on Saturday Night Live earlier this year, during a memorable guest-host turn that knocked the ratings out of the park. Now, she's known for something else: On Saturday, the Academy of Television Arts & Sciences awarded the Golden Girl the Emmy for Best Guest Actress in a Comedy Series. It was her seventh Emmy. She beat out Elaine Stritch from 30 Rock, Kristin Chenoweth from Glee, and fellow SNL guest-host Tina Fey.
White, 88, is just one of the luminaries to have been nominated for a Creative Arts Emmy, awarded today in a non-televised ceremony that is sure to exasperate people who actually win. Per Steve Pond at The Wrap:
Past winner and host Kathy Griffin calls them "the Schmemmies" and jokes that they're a seven-hour endurance test, but the Creative Arts Emmys are actually the ceremony at which two-thirds of all Primetime Emmy Awards are handed out. This year's show takes place Saturday night at the Nokia Theatre in downtown Los Angeles, with an edited version airing on E! the following Friday night.
According to Pond, the Creative Arts Emmys feature a whopping six dozen categories, with more than a thousand nominees. Of those nominees is a biggie for those who follow late-night TV: Outstanding Writing For A Variety, Music Or Comedy Series, including the now-defunct Tonight Show with Conan O'Brien (which got a nom above that other Tonight Show, the one with Jay Leno). Also up for an Emmy in an exceptionally strong category: The Colbert Report, The Daily Show, Saturday Night Live and Real Time with Bill Maher. Honestly, with the exception of Bill Maher who that one goes to is anyone's guess — Conan is the sentimental favorite (and submitted his final show for consideration), but then again the SNL submission was for the Betty White ep, which was exceptionally strong (remember, it featured returning luminaries like Tina Fey, who had a hand in at least one sketch). Meanwhile, before you get too comfortable, consider that The Colbert Report submitted no less than a ground-breaking episode from Iraq — and The Daily Show submitted the episode with Jon Stewart's epic 13-minute takedown of Glenn Beck. So really, it's anyone's game.
Exciting times in Hollywood! In lieu of watching it on TV, I will watch it on the Twitters.
Have a tip we should know? tips@mediaite.com