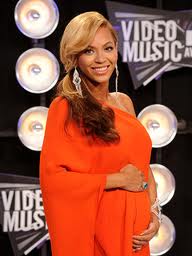 Beyoncé's big announcement last night — that she is, after years of wishful speculation by fans and media, in fact pregnant — set a new Twitter record for the most tweets per second, things peaking at 8,868 tweets per second. An early tweet suggesting that, "Also, B TOLD THE PAPS THAT SHE'S PREGNANT," from MTV News correspondent Jim Cantiello seemed to set things off. Within minutes, the news was posted on various pop culture blogs. Finally, that photo of her, on the red carpet, beaming while clutching her belly for photographers, was posted. Confirmation. Who needs an official statement when you've got an nation of twitter followers eager to make the announcement for you?
There also to perform a show-stopping "Love on Top," the night was mostly about sharing the big news. And in her own fabulously coy way, share she did. The record breaking moment came late in the show when Beyoncé punctuated her performance by rubbing her newly inhabited tummy, much to the excitement of Daddy Jay, probable godfather Kanye West, and, apparently, an internet full of people who feel they have a stake in the nascent being. The spike in tweets tops the previous record of 7,196 tweets tweeted per second, set during the final moments of the U.S. woman's soccer team's game against in July. Moreover, it greatly surpasses the number of tweets sent during the Royal Wedding (3,966 per second), after Japan's March earthquake and tsunami (5,530 per second) and even the number sent upon news of Bin Laden's death (5,106 per second).
Her announcement comes in the wake of a big year for both her and her husband Shawn Carter aka Jay-Z — both having further cemented their legend status with well received albums. Which is to say that Beyoncé has been, in recent months, near the tip of many twitterer's tongues (if you will). The news also indulged a favorite gossip topic (baby bumps!) and settled a long-time internet debate as to whether Beyoncé and Jay-Z were overdue for a child, or on the splits. (Interestingly, the less-than-predictable MediaTakeOut had as their lead, when the news broke, a post about Jay-Z's new girlfriend, a story that was quickly buried at the bottom of the page.) And after a week of mostly agitated weather news, the flurry of excited and triumphant tweets comes as no particular surprise.
Accordingly, last night's MTV's VMAs also posted record audiences. 12.4 million viewers tuned in to what the New York Times' Jon Caramanica supposes "was maybe the most bleeped award show in history, and certainly among the lewdest." With viewership up nine percent from last year's show, it was the most watched telecast in MTV's history. Explanations for the big number range from a helpful Jersey Shore lead-in, to a younger and perhaps more relevant line-up, to the fact that much of the eastern coast was boarded up and growing tired of Hurricane Irene updates. Perhaps, even Beyoncé's pre-show announcement gave a few otherwise unlikely viewers reason to tune in.
Watch Beyoncé's dazzling performance-cum-baby announcement below:

Have a tip we should know? tips@mediaite.com