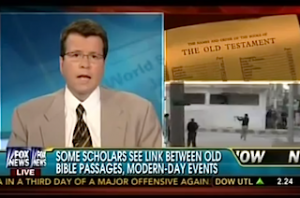 With everything that's developed regarding Syria's use of chemical weapons over the last few days, the geopolitical implications are potentially enormous. But what about the biblical implications? That was what Fox News' Neil Cavuto examined earlier this week when he invited evangelist writer Joel Rosenberg on his show to discuss how the current situation in Syria reflects apocalyptic prophecies from the Old Testament.
Reading from Isaiah 17:1, Cavuto quoted, "Behold, Damascas is about to be removed from being a city, and will become fallen ruin." After admitting that biblical quotes such as this one could very well have no relation to what is happening in Syria today, Cavuto called them "uncanny and kind of scary" nonetheless.
Rosenberg, whose latest book is titled Damascus Countdown
, explained to Cavuto that the "end times" prophecies have not yet been fulfilled. "We don't know that they will" occur in our lifetime, Rosenberg said, "but you've got a horror situation going on right now."
"It's a very sobering thought," Rosenberg continued, "to think that a judgement of a city or a country could happen in which en entire city is wiped out, but that is in fact what the Bible is predicting." While he said "it's impossible for us to know" or "say for certain that it's going to happen now," Rosenberg described the dire situation on the ground in Syria as analogous to what is predicted there.
"You have seven million Syrians are already on the run—two million have left the country; five million are internally displaced," Rosenberg added. "The Jeremiah: 49 prophecy says that people will flee, but there will still be people in Damascus when the prophecy happens. So the bottom line is we don't know."
Since Rosenberg's appearance on Fox, a possible peace deal brokered by Russia has emerged as a way of preventing a U.S. strike on Syria, and perhaps delaying the "end times" for now.
Watch video below, via Fox News:
[h/t Mother Jones]
[photo via screengrab]
— —
>> Follow Matt Wilstein (@TheMattWilstein) on Twitter
Have a tip we should know? tips@mediaite.com