Biden in 2005: 'I Pray God' Dems Don't Pursue 'Naked Power Grab' Nuclear Option in Majority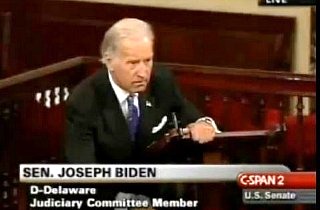 When Republicans discussed proposing a reform the filibuster with the "nuclear option" in 2005, Democrats railed against the effort. Senate Majority Leader Harry Reid (D-NV) is on record saying it would be an "abuse of power." President Barack Obama said that "gridlock will only get worse" if the nuclear option was employed. Even Vice President Joe Biden said that he prayed that Democrats would not do, as they did today, reform the filibuster rules to prevent minority members from blocking presidential nominees.

In 2005, Biden railed against the use of the "nuclear option," saying that the Senate Parliamentarian would insist that such a maneuver "was not parliamentarily appropriate."
"You cannot change the Senate rules by a pure majority vote," he insisted, as Democrats did on Thursday.
RELATED: Obama in 2005: If Republicans Kill Filibuster, 'Gridlock Will Only Get Worse'
"Watch the vice president ignore – he's not required to look to an unelected officer — but that has been the practice for 218 years," Biden said of Vice President Dick Cheney. "He will make the ruling, which is a lie. A lie about the rule."
"This is what's really going on here, the majority doesn't want to hear what others have to say even if it's the truth," Biden continued. "The nuclear option abandons America's sense of fair play."
"I say to my friends on the Republican side, you may own the field right now, but you won't own it forever," Biden concluded. "I pray God, when the Democrats take back control, we don't make the kind of naked power grab you are doing."
Watch the clip below via C-SPAN 2:
[Photo via screen grab ]
— —
> >Follow Noah Rothman (@NoahCRothman) on Twitter
Have a tip we should know? [email protected]