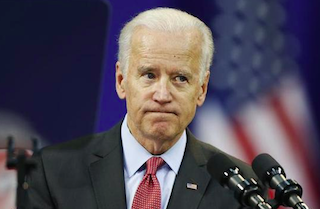 Vice President Joe Biden spoke at a closed-door Democratic fundraiser in South Carolina Friday, and according to a report on the event from CNN, he used the opportunity to take some shots at the Clinton administration and its role in increasing income inequality in America.
Multiple sources told CNN about a line during Biden's populist, "Elizabeth Warren-type speech" that stated America's path towards rising income inequality did not start under President George W. Bush, but rather in the "later years of the Clinton administration." This was apparently seen by some as a hint of how Biden would campaign against Hillary Clinton in 2016 if both potential candidates choose to run.
"He gave a stem-winding, almost revival-type speech today," one attendee said of Biden's performance. "I have never seen him this good. He was on fire. Sometimes when Joe gives a speech that goes on for 30 minutes, people are kind of drifting off or looking at their watches. But he was more enthused, more passionate. He was a preacher delivering a sermon."
Earlier this year, when Biden appeared on The View, he said that whether or not Hillary decides to run in 2016 will not affect his decision.
"It's as likely that I'll run as I don't run," Biden said in February. "I just truly haven't made up my mind yet. The good news is, everything I think I'll have to do to be a viable candidate is the same exact thing I should be doing to be the best vice president I could possibly be."
Watch The View clip below, via ABC:
[Photo via Kim Hong-Ji/Reuters]
— —
>> Follow Matt Wilstein (@TheMattWilstein) on Twitter
Have a tip we should know? tips@mediaite.com