Biden To Chris Matthews: GOP Will Work With Obama In Second Term Because Their 'Fever Will Have Broken'
Biden: GOP Will Work With Obama In Second Term Because Their 'Fever Will Have Broken'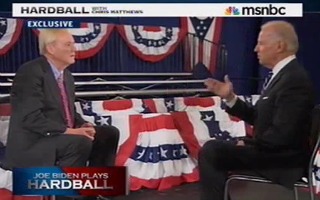 MSNBC host Chris Matthews sat down for an exclusive interview with Vice President Joe Biden on Sunday night. Biden attacked the Romney campaign for running disingenuous ads and praised President Barack Obama's response to Hurricane Sandy. Biden promised that Obama's second term would be marked by compromise because 'the fever will have broken' among Republicans who oppose Obama today.

Matthews first asked Biden for his impressions of a Mitt Romney ad that claims Chrysler intends to relocate its Jeep manufacturing facilities to China. Many in the media have called the ad misleading.
"I've never seen an ad at the end of this that's playing on the fears of people," Biden replied. "It's just flat false." Biden said that, quoting an editorial, it goes to Romney's character.
"What does it say about Romney's character that they're running it," Matthews asked.
"They don't have much character at all," Biden replied. "These people are finally back on their feet. There's no chance their job is going to go to China."
Biden slammed the Romney campaign for thinking that they could outspend the free press which would normally fact-check these ads.
Matthews complimented Obama's "coolness" for his response to Hurricane Sandy. "I've never once seen this guy falter," Biden replied in agreement. "My president's never once looked at me and said, 'Joe, what do you think the politics of this are?'"
He said that Obama had "mastered the bureaucracy" of Washington after his first term and would make significant reforms in his second term. "He cuts through, he makes a decision and stands by what he does," Biden said.
Matthews asked how, in a second term, Democrats and Republicans would work together in Obama's second term. "I think the fever will have broken," Biden said. "I've said this to you before – what we need is a Republican party. We need leaders who can control their party."
Watch the clip below via MSNBC:
> >Follow Noah Rothman (@Noah_C_Rothman) on Twitter
Have a tip we should know? tips@mediaite.com