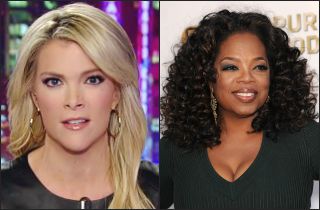 One noticeable sidebar to emerge from the coverage of the Donald Trump/Megyn Kelly controversy has been the prospect of the latter being wooed by other networks to be the next Oprah Winfrey. Kelly is under contract, of course, but as the old saying goes: Contracts were made to be broken.
So would Fox's biggest star leave if presented with the right offer? The thought is no, no and no… and here's why:
1) Loyalty to Roger Ailes: Not sure you've noticed, but not much really changes at Fox from a talent perspective. Most of its biggest names have been there for over a decade (presented in order of timeslot): Kilmeade, Doocy, Hemmer, MacCallum, Jon Scott, Shep Smith, Cavuto, Baier, Van Susteren, O'Reilly, Kelly, Hannity. As you can see, no major talent outside of Major Garrett and Alisyn Camerota has left to work elsewhere. Some of the names above are even coming up on 20 years at FNC, which is almost unheard of in today's keep-it-younger-fresher-(cheaper) media culture.
In the case of Kelly, she was a lawyer who became a legal pundit who became a dayside anchor who became a primetime host over a decade at Fox. Ailes discovered her, gave her the proper at-bats over time, helped build the brand, and finally gave her the big shot of hosting a 9:00 PM show. So while leaving for a network position may mean more money, it means sacrificing the trust that comes with familiarity…and sometimes there isn't a price tag on that. Example: Two years ago, Jeff Zucker tried to lure Kelly away to CNN and had the timeslot, platform and money to pull it off, but loyalty to Fox and Ailes ultimately won the day.
2) Editorial freedom: If Kelly were to jump to CBS, NBC, ABC or syndication, would that mean doing a program that consists of breaking down big stories of the day, primarily the legal, political and cultural ones? That's basically what The Kelly File does on a nightly basis with (and there are exceptions) the same stable of rotating contributors, analysts and guests to serve as a supporting cast (O'Reilly uses the same approach in terms of casting, for lack of a better term). And if the top-ranked numbers are any indication, the formula is working.
So would Kelly be able to do the same kind of program within her comfort zone on another network? Doubtful. You hear the comparisons to Oprah and shake your head when it comes to picturing Kelly doing softer and/or celebrity interviews. And that would also mean taking away Kelly's biggest strength as combative attorney when analyzing legal issues with other experts from that field. And in our next and final point, you'll see why turning a popular media figure into something she's not isn't a good idea:
3) The Katie Couric lesson: There was once a time an argument could be made that Couric was the biggest thing in broadcasting while being the face of NBC's Today. But after 15 years on the job, Katie decided she needed an even bigger, more important platform while making history in the process. Enter CBS, who offered her a boatload of cash ($15 million annually) and more importantly, a solo anchoring position in the same chair that Conkrite and Rather sat before her at The CBS Evening News.
And it was a horrible idea…
Why? Because by putting Couric in an anchor chair to read prompter and toss to field reports for 22 minutes, it took away Couric's best attributes: Cutesy banter while being the enormously likable person to wake up to, and strong interviewer. In the end, like Megyn, Katie is best when she's spontaneous. Couric would last less than five years at CBS as the program languished away in third place. And during that time, she (ironically) became increasingly irrelevant despite the supposedly huge platform. That's what happens when trading three hours of a morning show where America adores you for 22 minutes of simply being just another average anchor.
So while Kelly could jump to a network or get her own Oprah or Ellen-like show in syndication (where her salary would likely at least triple if DeGeneres's $56M/year earnings are remotely an indication), would she still be the brand she is now? Nope.
As the page is turned on the Trump-Kelly saga, it appears Kelly has only benefited while Trump remains on top of the GOP polls, at least for now. The numbers for The Kelly File the following night after the debate and Monday underscore the program isn't suffering too much from the kind of backlash we've been hearing about on social media. And if she is losing viewers because those loyal to Trump are boycotting the show, all the attention she's received–mostly positive–perhaps has only expanded the audience to folks who hadn't even heard of her before or had a pre-determined impression of Fox News. That's called broadening the brand.
Leave all of it for uncharted waters, editorial uncertainty and management who may or may not be trustworthy?
Just look at the loyalty to Ailes and the final few chapters of Couric's bio serve as a guide: It simply ain't gonna happen.
— —
>> Follow Joe Concha on Twitter @JoeConchaTV
Have a tip we should know? [email protected]