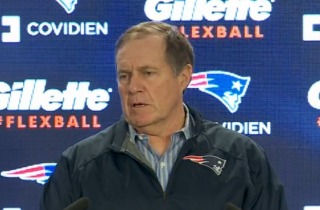 New England Patriots coach Bill Belichick announced on Saturday that the team conducted an internal study of the process that led to what the NFL called the deliberate deflation of footballs before the AFC Championship Game. After multiple tests were done this week, Belichick stood by his claims earlier this week and said he welcomes the NFL's further investigation.
"At no time was there any intent whatsoever to compromise the integrity of the game or to gain an advantage," he said. "I believe now 100 percent that I personally, and we as an organization, have followed every rule to the letter."
Belichick, noticeably irritated that he had to call an impromptu press conference on the subject, said pregame preparations usually involve the texture and the feel of the footballs, and he explained the full process. The team had quarterbacks test footballs that were under-inflated by 1 PSI, and said they could find no apparent difference.
"At no time were any of our footballs prepared anywhere other than in the locker room … never in a heated room or a heated condition," Belichick said, adding that each individual football is different.
"I'm embarrassed to talk about the amount of time I've put into this," Belichick said, highlighting his intent to focus on next weekend's Super Bowl matchup with the Seattle Seahawks. "This is the end of this subject for me for a long time."
An NFL investigation concluded that the team was responsible for deflating many of the footballs used during the team's rout of the Indianapolis Colts last Sunday. NFL experts say the deflation makes the footballs easier to throw and catch.
On Thursday, Belichick said he was "shocked" to learn of the deflated footballs and insisted he had no idea what happened. Quarterback Tom Brady echoed Belichick and denied direct involvement in the deflation of the footballs.
Potential punishments for the Patriots include a loss of draft picks and a hefty fine from the NFL. Patriots owner Robert Kraft pledged full transparency and cooperation with the NFL's ongoing investigation.
Watch the full press conference below, via ESPN:
[Image via screengrab]
— —
>>Follow Andrew Desiderio (@forza_desiderio) on Twitter
Have a tip we should know? tips@mediaite.com