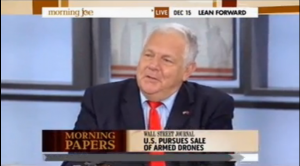 Radio host and author Bill Bennett paid a visit to MSNBC's Morning Joe, where talk to turned to the challenges that arise when trying to raise young kids, particularly little boys, as well as the state of men on television these days.
Host Joe Scarborough shared that he's been told by doctors countless times that his children needed Ritalin or other drugs, but that, now, whenever his energetic three-year-old son Jack is bouncing off the walls at home, Scarborough simply tells his wife that the only "wrong with him" is that "he is a boy."
RELATED: The Secret To TV Success: Shows With "Man" In Their Titles Fail, While "Girls" Succeed
Former New York City mayor Rudy Giuliani agreed with Scarborough, telling a story about his own childhood experience with an "old-fashioned pediatrician" who had told his mother that little Rudy wasn't sleeping through the night because he'd inherited her sleeping habits. But if he'd been a child today, he shared, he's fairly certain he'd be "drugged up" to deal with his unusual sleeping pattern. "Boys are boys," he declared, adding that his own son had been hospitalized three times, once for running into a wall. "That's a low number" joked Mika Brzezinski, who is herself a mom to young kids.
Scarborough then turned the conversation over to Bennett's latest book, The Book of Man: Readings on the Path to Manhood. "Where are the men?" he asked.
Well, I think they're there. I mean, we certainly have a lot of good men in American society, but we're not bringing out the best in them and we're not encouraging the best in them.

Take a look at the fall TV series sitcoms. And the men in these sitcoms are not nobody you'd… not manly. The only one that is is Tim Allen, and the show is called Last Man Standing.
Have a look, via MSNBC:
Have a tip we should know? tips@mediaite.com