Bill Bratton Casually Reveals To Cenk Uygur That LAPD Coordinated With The CIA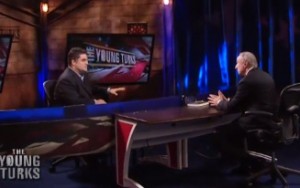 Former LAPD Police Chief and Collaborate Or Perish! author William Bratton seems to have dropped something of a bomb on Current TV's The Young Turks, telling host Cenk Uygur Tuesday night that his LAPD "had interactions with the CIA" to "to make them aware of our capabilities and our needs."
While the CIA's coordination with the NYPD has been big news, Bratton's bombshell has proven a silent but deadly, barely registering with the news media.
The Central Intelligence Agency's role in advising the New York City Police Department following the attacks of 9/11 has been making news lately, most recently with the revelation that the Agency's general counsel did not approve the assignment. An Associated Press investigation revealed that the CIA helped the NYPD target innocent Muslims for surveillance:
In a series of investigative reports since August, the AP has revealed that, with the CIA's help, the NYPD developed spying programs that monitored every aspect of Muslim life and built databases on where innocent Muslims eat, shop, work and pray. Plainclothes officers monitored conversations in Muslim neighborhoods and wrote daily reports about what they heard.

(Raymond) Kelly, the police commissioner, has vigorously defended the NYPD's relationship with the CIA. Testifying before the City Council in October, Kelly said the collaboration was authorized under the 1981 presidential order, known as No. 12333.
On Tuesday night's TYT, host Cenk Uygur asked Bratton, who is also a former NYPD police chief, if the CIA had overstepped its bounds in its coordination with the NYPD. Mr. Bratton explained, "In dealing with information intelligence as it relates to terrorism, the CIA has a lot of information that is appropriate for use by American police forces," within the law, and pointed out the intelligence firewalls that contributed to the 9/11 attacks.
Uygur then asked Bratton  "So, did you guys work with the CIA in Los Angeles when you were the police chief?"
Chief Bratton replied, "We had interactions with the CIA in the sense of meeting from them from time to time, certainly, just in order to make them aware of our capabilities and our needs. There is nothing that precludes that, and nothing wrong with that."
He went on to compare the police-CIA pairing to a surgical team. "It's like going into a surgery and the doctor that's going to perform the surgery is not going to talk with the anesthesiologist?" said Bratton. "I don't know that I'd want to be in that operating room."
That's a fair point, but I also don't want my appendix to be taken out by a guy who lists "Wetwork" in the "skills" section of his resume´.
Unlike some liberals, I'm something of a realist (rather than an alarmist) when it comes to national security, particularly as it relates to intelligence. While Bratton's argument has its appeal, such coordination between police and the CIA carries with it the inherent difficulty in maintaining oversight. Keeping track of what CIA agents are doing is a bit like judging a Ninja Beauty Contest: if they're doing their job, you won't see them.
Here's the clip, from Current TV's The Young Turks:
Have a tip we should know? tips@mediaite.com