Bill Burton Hails 'Wildly Successful' Romney Cancer Ad, Liberal Group Touts Millions In Free Air Time
Bill Burton Hails 'Wildly Successful' Romney Cancer Ad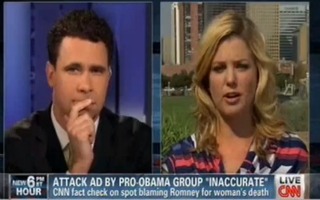 Bill Burton, the former White House Deputy Press Secretary and advisor to Priorities USA, the pro-Barack Obama Super PAC responsible for a much-reviled ad that links Mitt Romney to the death of a steelworker's wife, today told The Huffington Post that he is proud of his ad. He called it "wildly successful" due to the attention and free air time that it has received. However, unlike your average Real Housewives star, not all press is good press in politics.

RELATED: Risky Obama PAC Ad Linking Romney To Steelworker's Wife's Death Highly Likely To Backfire
"The truth is, there are a lot of sad stories that came as a result of what happened when Mitt Romney was in business," Burton said to The Huffington Post. "I don't think those stories should be off limits because they're particularly heartbreaking."
"Our spots have been factual and well within the bounds of what we think is appropriate," Burton continued.
But no media organization is talking about Mitt Romney. No one is even talking about the ad's subject, Joe Soptic — save for the holes in his story and his links to the Obama campaign. What every media organization is talking about is precisely how out of bounds this ad was, how factually inaccurate it is and how it reveals links between the Obama campaign and it's supporting PACs which are forbidden by law.
On Wednesday, CNN's Wolf Blitzer and the network's fact checkers lambasted the ad to Burton's face. In that interview, the former White House communications staffer was under such a withering assault that he forced a laugh to highlight how "funny" he found everyone's outrage. As they say, laugh to keep from crying.
But Blitzer was not the only media personality who Burton lost in this gambit. Morning Joe's Mika Brzezinski, often quite forgiving of Democratic politicians who overreach in the pursuit of goals she finds noble, wondered why the campaign would simply not disavow the ad once they saw it. Furthermore, she flat out said she did not believe many of the Obama campaign's excuses for why the ad is not a reflection on the President's reelection effort.
Brzezinski said, however, that despite the evidence that the campaign has been working with Scoptic directly for months, she was not prepared to indict the campaign for colluding with Priorities PAC. Mounting evidence that this was the case, however, will eventually make Brzezinski and other Democratic supporters unable to extend the benefit of the doubt further.
Earlier this week, we speculated that the ad was a play for earned media due to its length, the early drop of this ad and the fact that it was part of a $20 million dollar online and TV blitz by Priorities. On CNN, Burton said that the ad will air in swing states – doubtful, due to how expensive it would be to air the 60 second spot and how toxic it is for the Obama campaign. But they are now in full-face save mode. Anything is possible in order to make it seem like the folks at Priorities,and the Obama campaign by extension, are not captive to events.
The noble soldiers at the liberal group Think Progress today wrote that the ad, which is focusing the national conversation on "Romney's impact on the middle class," is "getting far more bang for its buck thanks to the free media coverage."
"Fox News and Fox Business provided the bulk of the coverage, mentioning and playing clips of the ad 26 times since Tuesday. CNN and MSNBC played it 15 and 12 times respectively," writes Think Progress' Aviva Shen. "The success of "Understands" can be read as a lesson to future political campaigns: launch hyperbolic attacks on your opponent, and the media will reward you with millions of dollars in free air time."
> >Follow Noah Rothman (@Noah_C_Rothman) on Twitter
Have a tip we should know? tips@mediaite.com