Bill Burton To Andrea Mitchell On 'Cancer Ad': 'Not One Fact In That Ad That's Wrong'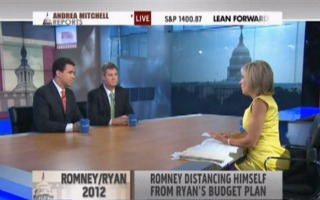 Former White House deputy press secretary and current advisor to the pro-Barack Obama Super PAC Priorities USA, Bill Burton, appeared on MSNBC with Andrea Mitchell where he defended the group's decision to run an ad that links GOP presidential candidate Mitt Romney to the death of a former steelworker's wife. Burton said that he stands by the ad and that there is nothing factually inaccurate in that spot.

RELATED: CNN Fact Checks Priorities USA Ad Blaming Mitt Romney For Woman's Death
Mitchell first asked Burton if he wanted to take the opportunity to scale back some of the claims made about Romney in the dubious Priorities USA 'cancer ad.'
This is your platform to explain what were you thinking when Priorities USA, your Super PAC, came up with the video – which hasn't run as a commercial – but the video which, by any stretch of the imagination according to every, you know, non-partisan group, fact-checker, editorial writer, the Washington Post, the New York Times, seems to suggest that somehow Mitt Romney is responsible for the death of his poor woman with her husband in the ad?
"You know, it's an emotional ad, there's no doubt about it," Burton replied. "I think it got a debate going about Mitt Romney's business experience."
"No regrets," asked Mitchell.
"No," replied Burton without hesitation.
"What about the fact that Mitt Romney left Bain Capital before this woman ended up being fired, that she had other health insurance, that there was a gap between when she was fired and when she was diagnosed," Mitchell asked in a follow up question. "Aren't there so many flaws in the premise of that ad?"
"No," Burton replied again. "There is not one fact in that that's wrong. And I would challenge you to find one. All the facts in that ad are absolutely accurate."
The Washington Post's fact checker and PolitiFact.org both rated the ad as highly misleading. The Washington Post said of the ad that "on just every level, this ad stretches the bounds of common sense and decency."
Watch the segment below via MSNBC:
> >Follow Noah Rothman (@Noah_C_Rothman) on Twitter
Have a tip we should know? tips@mediaite.com