Bill Clinton Declares Hillary 'The Real Change-Maker' in Lengthy DNC Speech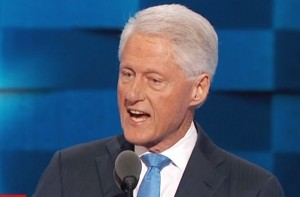 Tonight was not former President Bill Clinton's first time speaking at the Democratic National Convention––he's spoken at all of them since 1988––but it was the first time he spoke as the spouse of the Democratic presidential nominee. The first words out of his mouth were, "In the spring of 1971, I met a girl."
From there, he told some personal stories about how he and Hillary Clinton met and how he won her over, before going into her political evolution over the years and her commitment to public service.
He spent quite a lot of time talking about her civic engagement before and during his presidency. Clinton slightly acknowledged the criticism that his wife isn't an agent of change, referring to her as "the best darn change-maker I ever met in my entire life."
Basically, the speech was mostly an abridged biography, hitting on all the big moments––what she did as senator, as a presidential candidate in 2008, and as Secretary of State.
He emphasized that "change-maker" line a lot and said this:
"If you win elections on the theory that government is always bad and will mess up a two-car parade, a real change-maker represents a real threat. So your only option is to create a cartoon, a cartoon alternative, then run against the cartoon."
He promised Americans that "she'll never quit on you" and without referring to her opponent by name, implored minorities to reject division and work together for a better future.
"In the greatest country on earth," he concluded, "we have always been about tomorrow. Your children and grandchildren will bless you forever if you do."
Watch above, via CNN.
[image via screengrab]
— —
Follow Josh Feldman on Twitter: @feldmaniac
Have a tip we should know? tips@mediaite.com
Josh Feldman - Senior Editor