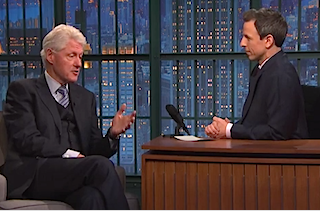 After trying and failing to get President Bill Clinton to say whether he thinks he might be moving into a new house in 2016, Seth Meyers moved on to what could be seen as a less controversial topic: Golf.
"A lot of presidents golf, it seems like all presidents golf. And you get in trouble for golfing," Meyers said, pointing to the criticism President Barack Obama has received for playing golf or taking his family on vacation. "I want to ask, as somebody who had the job, how important are vacations when you have that job?"
"Well, first of all, they can always get you if they need you," Clinton said. He explained that one of the reasons presidents like golf is that it "takes too much time and you cannot think about anything else."
"Every mind needs some release, and I think it's a good thing," Clinton said of presidents taking a break for the daily crisis grind. Reacting to the criticism both he and Obama have received, he added, "On balance, none of these people would have had the job if they were lazy… and I think we ought to be tolerant."
At the same time, Clinton said, "You've got to be sensitive to the visuals. You don't want to have a play picture at a sad time, you've got to be sensitive to that. But the idea of taking time off, I think that's quite important."
President Obama has admitted he has not always been as aware of the "optics" of his actions as he should be, telling Chuck Todd last fall that he should have realized how it would look for him to hit the golf course immediately after making a statement about the beheading to journalist James Foley.
Watch video below, via NBC:
[Photo via screengrab]
— —
>> Follow Matt Wilstein (@TheMattWilstein) on Twitter
Have a tip we should know? tips@mediaite.com