Bill Clinton Moderates Remarks on Obama's 'Keep Your Plan' Promise in CNN Espanol Interview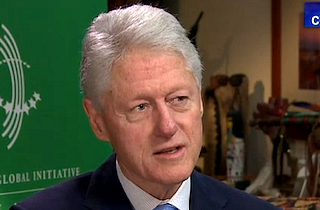 In a a preview of an interview with CNN Español's Juan Carlos Lopez on Tuesday, former President Bill Clinton moderated his remark from two weeks ago that President Barack Obama should honor his "if you like your plan, you can keep your plan" pledge.
"I said nothing about this, not one word, until the president himself spoke," Clinton said. "It was obvious to me, listening to him, that he wanted the American people to feel that he had kept his commitment, and that they didn't understand that he in fact did grandfather in—that is, protect—all the policies that were in existence on the day he signed the health care bill. That was done."
"But he didn't take over the insurance industry in America," Clinton continued. "So, for example, today less than 20% of those 11 million policies which exist in the individual insurance market even existed when President Obama had signed the bill."
RELATED: CNN Contributor Scolds CNN: 'We've Created a Tiff' Between Obama and Bill Clinton
"So I was trying to be supportive of him. I don't think you can find anybody in America who's worked harder for his reelection, or supported this bill, or went out of his way to explain the bill to the American people more than I did."
Clinton also tersely denied the charge that he had criticized Obama as a means of distancing the problems with the Affordable Care Act from his wife, former Secretary of State Hillary Clinton, in preparation for her 2016 presidential run.
Watch the clip below, via CNN:
[Image via screengrab]
——
>> Follow Evan McMurry (@evanmcmurry) on Twitter
Have a tip we should know? [email protected]