Bill Clinton Praises Romney's 'Sterling' Business Career: We Shouldn't Say It's 'Bad Work'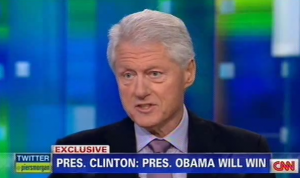 Add President Bill Clinton to the list of all the president's men who aren't as eager to criticize Mitt Romney's business record as President Barack Obama has been. Harvey Weinstein, who was filling in for Piers Morgan, sat down with Clinton on Thursday night, discussing his thoughts on the campaign. Veering off message, Clinton deemed Romney's business record "sterling."
RELATED: Gov. Deval Patrick Defends Bain: Bain Is A 'Perfectly Fine Company,' 'I've Got A Lot Of Friends There'
Noting the controversy surrounding the topic, Clinton said Romney's had a good business career — and that being a successful businessman isn't easy: "When you try, like anything else you try, you don't always succeed." He added, "I don't think that we ought to get into the position where we say, 'This is bad work.' This is good work."
Romney's sufficiently qualified to be running — a "man who has been governor and had a sterling business career" — but Obama is the better choice because he has a better plan, Clinton said. Asked about the ultimate November outcome, Clinton said Obama will win "by five or six points. I've always thought so." But he noted the race is closer at the moment (due to the economy).
Clinton's refusal to attack Romney's time at Bain Capital falls in line with Newark Mayor Cory Booker's previous remarks (which caused a considerable media frenzy), as well as the views expressed by Massachusetts Gov. Deval Patrick. Though Clinton's the highest profile surrogate so far to do so. Meanwhile, Obama has been hammering Romney on just same topic, insisting it's a central part of his campaign — and alleging that during Romney's time in the corporate world, Bain bankrupted companies and cut jobs while walking away with hefty profits.
That Obama's anti-Bain message isn't gelling with such a prominent surrogate will doubtlessly be picked up by the Romney campaign and its supporters.
Take a look, via CNN:

Have a tip we should know? [email protected]