Bill Clinton: 'Right Now [Obama's] Just Out There Running Against Himself And People's Misery'
Clinton: 'Right Now [Obama's] Just Out There Running Against Himself And People's Misery'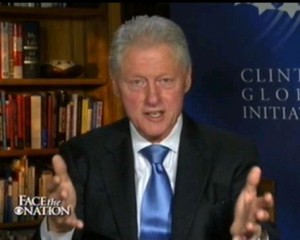 Former president Bill Clinton argued on Face the Nation today that President Obama has, in essence, made himself his primary opponent leading up to the 2012 presidential election, and emphasized the role of compromise in contemporary politics.
Host Bob Schieffer asked Clinton if he agreed with James Carville (a former Clinton advisor) in saying that now is the time for President Obama's team to panic and shake up their entire reelection strategy. Clinton did not take this view, but rather gave Obama credit for his jobs speech last week, which the former president thought was a good first step in taking care of the debt problem.
Clinton looked at President Obama's struggle right now as a powerful political one.
"Right now he's just out there running against himself and people's misery. It's tough out there. You've got not only 9 percent unemployment, you've got who knows how many million people aren't in the numbers 'cause they quit looking for work, and a lot of voters who have part-time jobs who want full-time jobs."
He called for Republicans and Democrats to work together to speed up the recovery process, and pointed out that looking back at the last few decades at U.S. elections, "conflict makes good politics, but it doesn't make very good policy." Clinton understood where Carville was coming from, but disagreed on the particulars of Obama's strategy heading into the next presidential election.
"When you're out there running against yourself and people feel miserable, it's hard to see your numbers go up; when he's got a real opponent and people get to evaluate real alternatives and they get to see other Republicans respond to his speech and his plan, including a lot of ideas they have supported in the past. Then, I think, we'll be in a different world politically."
Watch the video below, courtesy of CBS:
Have a tip we should know? tips@mediaite.com
Josh Feldman - Senior Editor