Bill Clinton To CNN's Erin Burnett: Romney 'Ought To Release A Decade's Worth Of Tax Returns'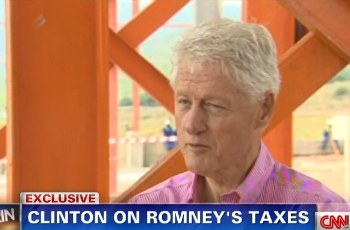 Former President Bill Clinton spoke with CNN's Erin Burnett on Thursday, during his Clinton Foundation visit to Rwanda in a wide-ranging interview that touched upon, among many things, the upcoming presidential election and Republican presidential nominee Mitt Romney's refusal to release tax returns beyond what is legally required.
"I think it's a mistake," Clinton said of former Gov. Romney's tax return reluctance. "He ought to release a decade's worth of tax returns."
The former president laughed when trying to explain why he thought Romney wouldn't want to release the documents. "Whatever it is, it couldn't be as bad as not doin' it," he said. "It raises the question of whether he thinks it should be a different set of rules for him than everybody else." Clinton admitted that he doubts there's anything seriously damaging in Romney's unreleased tax returns, but the refusal to release the papers can only fuel the mystery.
Clinton was also on-message while discussing the case for the president's re-election. "I think there's an enormous case for President Obama," he said. "Governor Romney recommends that we go back to the Bush economic policies, more tax cuts for upper income people and less regulation which is what got us in trouble in the first place…. Obama's last two and a half years have produced 40% more jobs than the seven years and eight months of the previous administration before the meltdown."
Burnett then asked the former president about the perception that President Obama is waging "class warfare" with his rhetoric on where wealth comes from and what makes a successful business. "I don't think when he talks about fairness he means that if we have prosperity it ought to be broadly shared. He hasn't done anything to hurt upper-income people. So I don't buy the class warfare thing."
Check out Clinton's thoughts on President Obama below, via CNN:
And check out Clinton on Romney's tax returns below, again via CNN:
>> Follow Andrew Kirell (@AndrewKirell) on Twitter
Have a tip we should know? tips@mediaite.com