Bill Clinton To David Letterman: Occupy Wall Street Needs To Be For Something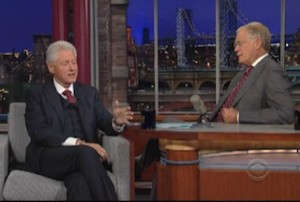 President Bill Clinton appeared on the Late Show with David Letterman last night and discussion of the Occupy Wall Street protests proved to be as interesting a recap as one might expect. The former president was generally very supportive of the movement, however he did not seem entirely impressed with the specific message currently coming from the protestors, summing up by saying "you need to be for something, not just against something," before drawing comparisons to both the Tea Party and the Arab Spring.

RELATED: Glenn Beck Sends Truly Unbiased Film Crew Down To Interview Occupy Wall Street Protesters About The Munchies
Letterman appeared to be just as impressed by the Occupy Wall Street in his questioning of Clinton, specifically asking how Occupy Wall Street was different than the Tea Party movement, which the late night host saw as a very similar thing, or at least saying that "it is an energy that is welcomed back into this country." Clinton summed up his position quite elegantly saying:
I think Civil rights, Women's rights, Gay rights, the Vietnam War…and on the right, the conservatives, the Tea Party groups and the Pro-lifers, all those things, that's part of being an American, to be able to organize with people that you agree with in trying to make your voice heard. But to make the change, eventually what it is you're advocating has to be clear enough and focused enough that either there's a new political movement which embraces it or people in one of the two parties embraces it.
Watch the clip below, courtesy of CBS
Have a tip we should know? tips@mediaite.com