Bill Clinton To Wolf Blitzer: 'I Am Strongly Committed' To President Obama's Re-Election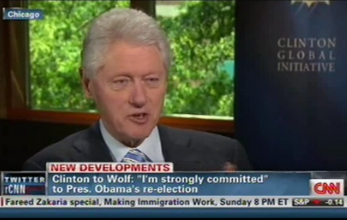 Thursday afternoon, former President Bill Clinton told CNN's Wolf Blitzer that he is "strongly committed" to President Barack Obama's re-election and that he is sorry for causing a stir after he was believed to have contradicted President Obama by telling CNBC on Tuesday that Congress should extend the Bush tax cuts.
Clinton walked back his tax cut claims, saying that he misunderstood the deadline by which Congress needs to take action. "I was under the impression that something had to be done before the election," he said of the tax cut renewal.
"I am very sorry about what happened," he continued. "I thought something had to be done on the fiscal cliff before the election. apparently nothing has to be done until the first of the year, so I think [President Obama] should just stick with his position and negotiate when possible."
– RELATED: Contradicting Obama Again? Bill Clinton Tells CNBC That Congress Should Extend All Tax Cuts
After Blitzer brought up the CNN interview in which Clinton said that Romney has a "sterling" business career, the former president affirmed his support for the president, saying that "I have spoken up for him whenever I could … I have told people repeatedly I think he has done a good job, a really good job under very trying circumstances."
"I am strongly committed to [President Obama's] re-election," he added.
The former president also said that "the best thing [Romney] did as governor was to sign the health care bill," eventually adding that "I don't think I should have to say bad things about Governor Romney personally to disagree with him politically. The fact that I was complimentary of his success in business doesn't mean that I think that he should be elected and President Obama shouldn't."
Check out the interview below, via CNN:
>> Follow Andrew Kirell (@AndrewKirell) on Twitter
Have a tip we should know? tips@mediaite.com