Bill Cosby Slams Republicans Who Sat Through SOTU: As Bad As Civil Rights-Era Segregationists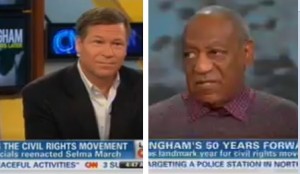 One of the key issues currently being decided by the Supreme Court is whether or not racism has ended sufficiently to gut the Voting Rights Act, or as conservative hero Justice Antonin Scalia calls it, "racial entitlement."
On Monday morning's Starting Point on CNN, legendary comic actor Bill Cosby illustrated the question beautifully when Republican former Congressman Connie Mack (R-FL) expressed surprise at long-ago racism, and Cosby pointed out that things aren't that different today.
Host Soledad O'Brien was leading a panel discussion about the 1965 Bloody Sunday march across Selma, Alabama's Edmund Pettus Bridge, the anniversary of which was marked by about 10,000 marchers this weekend, and she remembered a symbolic example of the contrast between progress and repression. "I read about you, at the same time the fight for rights in the South was going on," she said, to Cosby, "you were on the verge of winning an Emmy award. First black man – in 1966 you would win an Emmy award. And the show, I Spy, was banned in the South."
"Just a couple of stations," Cosby replied, then turned to Congressman Mack, who had said something inaudible. "What did you say?
"It's just hard to believe," Rep. Connie Mack, joined by wife and fellow former Rep. Mary Bono Mack (R-CA), said. "It's unbelievable."
"I don't think so," Cosby shot back. "Not when you look at the President's speech recently."
Referring to President Obama's State of the Union Address, Cosby continued, "To see people sitting down when there are others standing and cheering. I think we have people sitting there who are as bad as the people who were against any kind of desegregation. And then in place of a better America, they want their own sick feelings put across, and it's — it isn't — it isn't a good time, but I think, also on our part as professors and presidents of colleges all over, and in public schools, we need to get the education of the correct history that happened so people can say, 'Yes, this really did happen.'"
Republicans love Bill Cosby when he's telling black kids to pull their pants up, but this observation isn't likely to win him any fans on the right. Mack's shock at those people back then is exactly the kind of attitude, however, that's behind the current attempt to gut Section 5 of the Voting Rights Act, the idea that we have made so much progress since then that we no longer need to protect minorities' right to vote. Just as people point to our first black President as evidence of this, there were probably those who thought the first black Emmy-winner was a good time to declare racism ended, and protections against racial discrimination unnecessary.
But we still live in a country in which Republicans made such a concerted (and overtly race-based) effort to suppress minority votes that they actually drove outraged voters to turn out for President Obama, a country in which the last Republican presidential ticket continually complains about the minority vote. We still live in a country in which Justice Antonin Scalia's racist declaration that voting rights protection amounts to "racial entitlement" isn't considered outrageous by White America's #1 news network, Rachel Maddow calling him a "troll" is.
It's easy, perhaps even understandable, to want to "call it even" while you're still way ahead, which White America has been trying to do for as long as I can remember. Sure, racism has dissipated completely for Antonin Scalia, and for people like Connie Mack. Bill Cosby got an Emmy, President Obama got reelected, and we might even get a black Pope. What could go wrong?
Much has been made of the fact that the re-authorization of the Voting Rights Act passed by a vote of 98-0, but you really have to wonder how many Republicans agree with Scalia. The silence from conservatives has been deafening.
Have a tip we should know? tips@mediaite.com