Bill Denies Chelsea Clinton Staying on Foundation Would Be Conflict of Interest: 'We All Know People'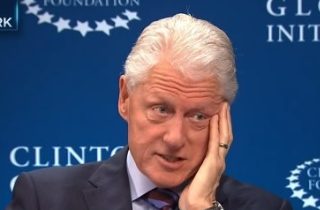 In a Tuesday interview, Bill Clinton denied that his daughter Chelsea Clinton staying on the board of the Clinton Foundation would present a possible conflict of interest if his wife Hillary Clinton were elected president, arguing that "we all know people."
Clinton spoke with CNBC's Becky Quick about his own decision to part ways with the Foundation if he became First Man. "Because, obviously, people would look at you as a conduit to getting through to [Hillary]" said Quick.
"Yeah," Clinton agreed. "The stuff that they've said so far is just bull, but if she was actually the president, it would raise too many questions. And I think it's fair."
But she pointed out that while Bill was stepping down, he wanted their daughter Chelsea to still remain on the board of the Clinton Foundation. "She seems to me to be a conduit who would essentially get through to Hillary Clinton too," Quick argued.
"Well, we all know people," Clinton said. "but, you know, when they made that conduit argument the State Department said there's nothing to it, the career people at the State Department"
"I'm going to get off the board, we're going to give up corporate contributions and the individual contributions will be reported on a regular basis," he said. "Chelsea has to decide what she's going to do, but somebody has to stay there.. somebody has to superintend the handing off of all this."
Watch above, via CNBC.
[Image via screengrab]
—
>>Follow Alex Griswold (@HashtagGriswold) on Twitter
Have a tip we should know? tips@mediaite.com