Bill Donohue Agrees with Santorum: Pope's No Scientist, Shouldn't Speak on Climate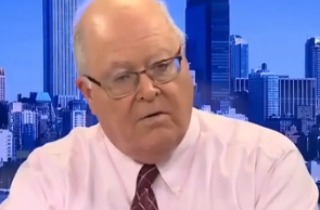 On Monday, Catholic League president Bill Donohue had an interview with Newsmax where he bashed the media's reception of issues ranging from Rick Santorum's back and forth with Pope Francis to Caitlyn Jenner's transition.
Donohue told Steve Malzberg that the pope's authority only extends to the discussion of "faith and morals." "Catholics will offer him respect," Donohue said, "but in terms of accepting what he has to say as guiding their thoughts, no, it's not going to happen."
Donohue proceeded to defend Rick Santorum, who has received attention last week for his comments about how the pope should "leave the science to the scientists" on global warming. Donohue particularly challenged Chris Wallace's interview with Santorum, where Wallace wondered why the pope couldn't speak about it like other politicians, especially when he has a degree in chemistry.
"The pope does not have a master's degree in chemistry," Donohue said, "the pope has the equivalent of a two-year community college degree, in other words, two years out of high school." Donohue then said that the pontiff is allowed to speak on other issues, but warned that it is unlikely that Catholics would accept his followings beyond "non-negotiable" issues like abortion and euthanasia. "No one has ever said that air pollution is intrinsically evil."
The discussion was eventually brought to Caitlyn Jenner, leading Donohue to blast ESPN for its plans to present Jenner with the Arthur Ashe Courage Award next month. "Bruce Jenner is not the problem, he obviously has some psychological maladies to work out," Donohue said. "The problem is with the elites who try to tell us that he's just like different strokes for different folks."
Donohue concluded by stating that it wasn't proper to celebrate Jenner's change, claiming that people who undergo sex re-assignment surgery have an increased likelihood of being depressed or suicidal. "We shouldn't celebrate and glamorize what is really a tragic situation."
You can watch the interview here, via Newsmax TV:
[h/t Raw Story]
[Image via Screengrab]
Have a tip we should know? tips@mediaite.com