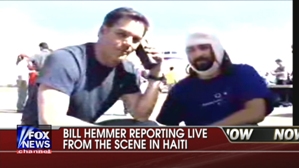 Fox News anchor Bill Hemmer returned from Haiti this week, after covering several aspects of this tragic story.
His excellent reporting brought the images of Haiti into viewers homes, like many other correspondents on the array of news outlets. Earlier this week we spoke to his colleague Steve Harrigan – Mediaite spoke to Hemmer yesterday afternoon.
Mediaite: Now that you've returned, and can reflect a little on the story, what do you take away most from the story in Haiti?
Hemmer: I think there's always part of you left behind on stories like that. Watching on a monitor now is strange. When you hear reports from hotel Montana or the airport or a hospital or some parks we'd file reports from, you know what's happening to the right and left of it. Our cameras are able to capture a pretty good chunk of that story but not all of it. What you miss through the TV screen is the sheer enormity of the disaster. You would need the world's widest lens to capture all of it.
"I have never been so proud to be an American."
Mediaite: What did you find the hardest to convey in your reports?
Hemmer: The number of people affected. We can talk about it until blue in the face, but how do people understand 500,000 people, a million people living outdoors, in every nook and cranny of the city. Their houses are not flooded, their houses are destroyed. It's still an ongoing challenge as a reporter. The other factor is, we're all human beings. Maybe some people are prepared for the overwhelming experience, but most of us are not. Your heart breaks for these people who are in need of so much. They'll ask for food or water or medical help or a ride to hospital. Imagine that. What you experience, day to day, street to street neighborhood to neighborhood. The other story I liken it to was New York City on 9/11.
>>>NEXT PAGE: Hemmer on reporters getting too close to the story and a lasting image.
Have a tip we should know? tips@mediaite.com