Bill Keller: Adding Hillary Clinton As VP Nominee Would 'Nearly Guarantee Obama Re-election'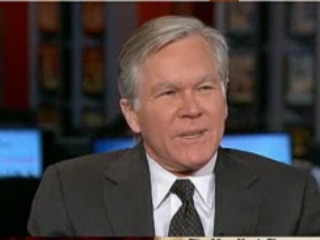 On Friday, the Morning Joe crew took a look into their crystal ball (sponsored by Starbucks) and glimpsed ahead into what the future may hold for big-name Democrats. Is current Vice President Joe Biden gearing up to run for another presidential run? Would President Barack Obama do well to tap Secretary of State Hillary Clinton to be his 2012 running mate? Would either stand a chance if Boo were to seek the nomination?
RELATED: Joe Scarborough: The Press Favored Obama By A Longshot Over Hillary
The New York Times' Bill Keller was on hand to defend candidate Rick Perry's suit-wearing abilities (I actually think he tends to wear his collar too high. Thoughts?), later opining that the White House must be getting a chuckle with the way the GOP candidates have, as he sees it, gone from accusing Obama of being a socialist to accusing Mitt Romney of being a capitalist.
Keller also thought Obama would be well-advised to bring Clinton on as his running mate this year, despite obstacles like, oh, Obama and Clinton and Biden (oh my). "But other than those little speed bumps…" he joked. "Look, it's the one thing, I think, that the Democrats could do to nearly guarantee Obama re-election. It would generate enough excitement that they might actually have some coattails and help out a little bit with the Senate and House. And it would position Clinton as their heir apparent for 2016, assuming she wants to run."
Have a look, courtesy of MSNBC:
Visit msnbc.com for breaking news, world news, and news about the economy
Have a tip we should know? tips@mediaite.com