Bill Kristol Advises Romney Campaign To Stay On Policy, Not On Controversies Like Dog-Gate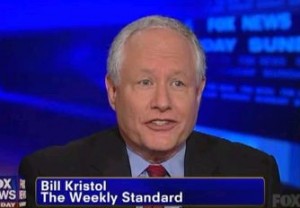 On Fox News Sunday today, Bill Kristol advised both campaigns in this presidential race to keep the focus squarely on the issues and not all the nonsense and tiny controversies that have plagued much of the campaign so far. Remember, we're at a point in the race where people are playing the "Omigod The President Ate A Poor Defenseless Puppy" card and the campaigns are bitterly arguing about which candidate is more out-of-touch.
RELATED: Bill Maher On 'Rosen-Gate': Just The Latest In 'Stupid, Non-Consequential, Meaningless Controversies'
Kristol's advice was mainly to the Republicans, urging the party not to succumb to personal attacks on President Obama or exploiting tiny controversies as something huge and significant. He laid out what he thinks the biggest policy issues of the Obama presidency has been, and stated clearly that you vote for Obama or vote against him depending on whether or not you like his policies.
He also addressed attempts by the president's election team to try and go after Romney for similarly irrelevant issues, sharing anecdotally that when he was in the George H.W. Bush White House, many people dismissed Bill Clinton's chances because of his personal background.
"I think if you're an incumbent president who isn't thrilled with defending your own record, you'll try to disqualify the opponent. You can try to disqualify him on personal grounds, and it hasn't worked. It has not worked… voters vote on policy. Voters vote going forward."
Watch the video below, courtesy of Fox:
Have a tip we should know? tips@mediaite.com
Josh Feldman - Senior Editor