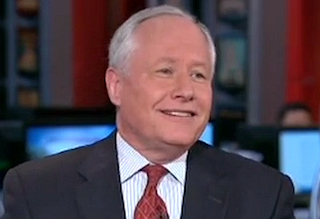 Bill Kristol appeared on Morning Joe Tuesday morning and distanced himself from comments he made on an ABC online interview Sunday about Sarah Palin's path back into political power, saying he gave a dispassionate answer to a question about her political future, and was not actually encouraging her to run.
"I was asked, 'Does Sarah Palin have a future?' and I just tried to give an analytical answer, which is I don't think she does having resigned as governor," Kristol said. "I said, 'I'm not urging this.' This is useful to think outside the box, not just accept the conventional wisdom…If she wants to have a serious future in American politics, as opposed to giving speeches occasionally, causing a ruckus with Facebook posts, she should run for office. Running and winning takes away a lot of the baggage of the past."
RELATED: Bill Kristol No Longer Exclusive to Fox News
Which isn't to say Kristol was against the idea of her running.
"You don't think if she ran in the Republican primary in Alaska and beat a couple of good candidates and the incumbent senator, it would be interesting?" Kristol asked. "It would fun to have her in the Senate in January 2015. Good to have a Republican vote there, lively young senator."
"I promise you that what she heard out of what you said was 'how to,'" said Nicolle Wallace, the John McCain aide who was assigned to Palin during the latter's tumultuous 2008 campaign as the GOP running mate.
"She really disappointed me when she quit the governorship," Kristol admitted. "Until then she had been a popular governor. Fine, you're a defeated vice presidential candidate, you have couple bad interviews, you can survive that. Quitting the governorship in your first term? People don't understand that."
Watch the full clip below, via MSNBC:
————
>> Follow Evan McMurry (@evanmcmurry) on Twitter
Have a tip we should know? tips@mediaite.com